Urine Stain Removal

Got Urine Stains?
Do you have a new puppy or a dog that is not completely house trained, or maybe even a senior pet that is beginning to have a bit of trouble holding it?
If so, then you've probably had a few 'accidents' in your home. If this is the case, you need to remember this 3 step process:
Lift - Clean - Deodorize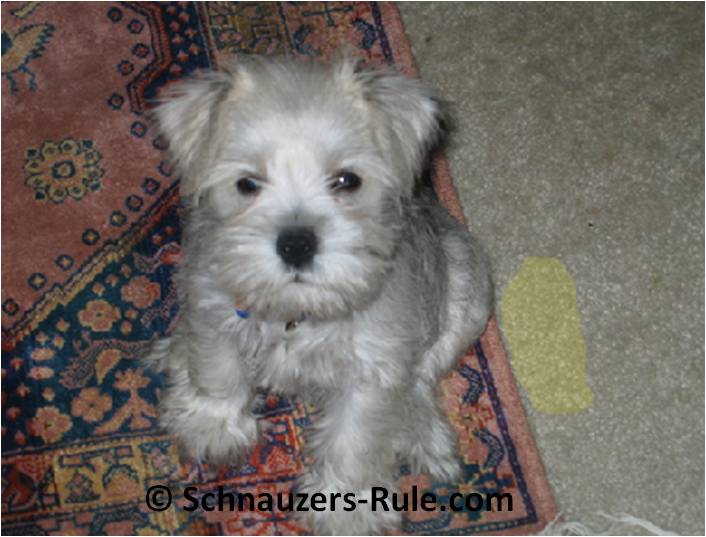 Housebreak a Puppy in 5 Steps
Oopsie! Did I do that?

If you have a new puppy, you have carpet stains. To avoid it from happening again and again, you should begin house training your new puppy right away.

Luckily, Schnauzers are smart, so the training process does not take as long for them as some other breeds. Get all the tips here: 2 week potty training guide for dogs.
---
So your sweet little bundle of fur did a no-no. Now what?

Whenever possible, always remove stains BEFORE they dry. If you do not, your dog will re-urinate on and around the area again and again because there will be a strong enough scent of uric acid left behind for him to detect. This smell encourages a dog to re-mark the area.
If an accident occurs and penetrates into your hardwood floors, you'll need to use a 3.5% hydrogen peroxide... at full strength. Just squirt a bit of solution onto the stain and let soak in for a few hours. It may be necessary to do this twice. Once the stain is gone you will need to sand and refinish that area of your floors.
But for carpet stains, we have a great homemade stain remover recipe below...
Pet Stain Remover Home Recipe

Lift the Urine
First use several paper towels and soak up or lift as much of the urine as possible. note: If the urine is already dry just skip to the next step;




Next, mix about 1/4 cup of White Vinegar with 1/4 cup Water.




Slowly pour half of it on top of the urine stain and let it soak through.




Place several layers of thick paper towels over the urine stained area and stand on them. Repeat this process until your carpet feels almost dry, and most of the urine has been lifted up.





note: Vinegar is used as it neutralizes odors.



Clean the Area

Mix one or two drops of *Dawn dish washing soap with 1/4 cup of 3% hydrogen peroxide. CAUTION: Test your carpet for color fastness!


Using an old toothbrush, scrub some soap mixture into the stained area.




Once again, place several layers of paper towels over the area and stand on them to soak up the excess solution.

Use the other half of the vinegar & water rinse over the clean area to make sure all the soap is lifted and odors neutralized. Blot dry.
Deodorize
Sprinkle some baking soda on top of the now cleaned area.




Using your fingers or old toothbrush, work the baking soda into the cleaned area.




Let the area dry completely then vacuum.
| | |
| --- | --- |
| | Tip: Diatomaceous Earth not only controls pests and fleas, it's a powerful absorbent, too. Over 101 easy ways to "go green" with this amazing food grade Diatomaceous Earth (DE). |
More Ways to Remove Pet Odor & Stains

There are also great new cleaning products that make cleaning up
dog urine
, vomit, and feces, as well as removing their nasty smells, easier than ever before:
Products that remove Pet Odors and Stains
One such product called
Zero Odor
was voted Consumer Product of the year (2012). This heavy-duty odor removal, removes odor at the molecular level, leaves no scent behind, and is safe to use on all surfaces!
cleaning dog urine tip
: You can use any type of cleaner you prefer. Just DON'T use any cleaners containing ammonia. Ammonia breaks down to urea, which is a component of urine. And therefore your Miniature Schnauzer may not be able to resist the urge to urinate on the area again.
"Knowledge Share"... If you found this page on removing pet stains and odor helpful and informative, please share it with your dog-loving friends by clicking on one of the share links (like facebook, twitter, and google +1) located at the top right or bottom of this page.
---
Go from Urine Stain to About the Miniature Schnauzer on Schnauzers Rule
Go from Urine Stain to Housebreaking
Related Topics:
★ Puppy Training
★ Crate Training
★ Dog Behavior Training