Tugly
by Liane Kerting-Vick
(Kuna, ID)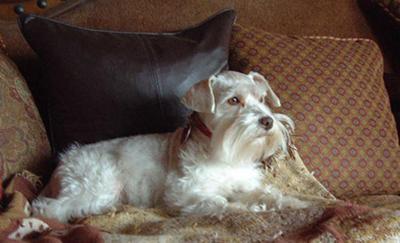 Miniature Schnauzer Tugly
This little guy came into our lives about 3 months ago. We weren't really looking for a dog but an opportunity came up that we could not pass up. A colleague's relative had to place some of her dogs immediately, and I jumped at the chance, since I didn't want to see them go to a shelter. Long story short, all found wonderful homes.

We were prepared to have to "work" to get the "new guy" accepted into the family of 3, one being a Cavalier King Charles Spaniel. Nothing was further from the truth. Our Spaniel, with a little hesitation, accepted Tugly. However, after several days, there was no question that they were bonded. Tugly keeps the Spaniel in great shape and he is 110% joy for us. Quiet in the evenings and playful and full of fun during the day... What more could I ask for?

Tugly is a perfect fit, beautiful(a white chocolate with an irridescent coat), has a sense of humor and talks. Might I add, he's a real "jock" too with his double suspension gallop. Sure there isn't any IG in there??? :-) Before I leave for work, I tuck him in his bed, paws over the top, blinks at me, like a child. He stays there till my husband gets up. New dog...no, a little 12" angel.