The great squirrel hunter, Lady Bug
by amy bosse
(Paxton, Ma)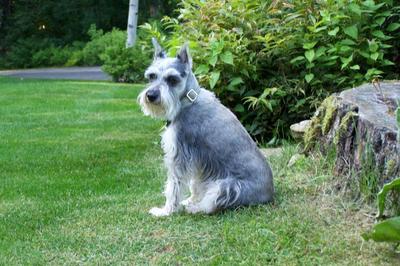 Our little Lady Bug is too cute. She loves to chase the squirrels out of our yard & bird feeder, which we dont mind. She has come very close to capturing them too! All you have to say is the word "squirrel" and she springs into action and takes off running looking for one!

She is going to be 14 this year and her age is starting to show. She tries to keep up with our new dog, a mini sheltie, but he is too fast. He does slow down for her so that she can catch him every now and then. She has the best personality and has been through so much in her little life, from getting sprayed in the face by a skunk to emergency surgery for kidney stones.

She looks like she is grinning at you, because the poor thing has lost a lot of her teeth. She makes you smile just by looking at her precious face and we could not ask for a better dog than her.
Return to 2012 Schnauzer Photo Contest .