Swayze
by Beth Bryant
(Olive Branch, Mississippi)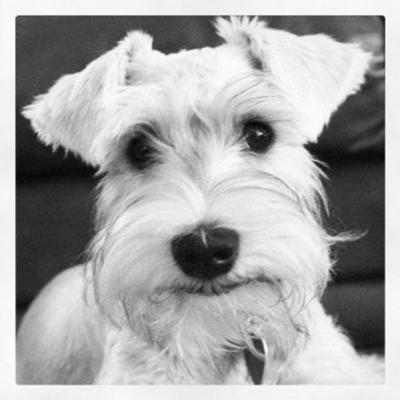 Miniature Schnauzer Swayze
Swayze is the comedian of the family!! He's is a 5 month old lil boy that loves to play with his sisters, Sophie (10 yr old Schnauzer) and Mena (1.5 yr old Aussie). While Sophie tolerates this funny boy's playfulness, Mena enjoys the rough and tumble time he instigates and gives him all the fun he can stand. These two continue to play until they both pass out from exhaustion.

Swayze came as the most unusual mini schnauzer I have ever been around. Instead of the somewhat hyper barking schnauzer I'm accustomed to, he is a quiet laid back fella. I tell most people that he must have an old soul. Because of this laid back calm personality, we are already working on obedience classes and will soon become a therapy dog where he will visit children at local hospitals like St. Jude Children's Research Hospital.

Swayze's favorite toy is a green frog that he carries from room to room and even uses as a pillow when he naps. He loves bully sticks and anything with peanut butter.

I can't imagine life without this sweet boy!!!!
Return to 2012 Schnauzer Photo Contest .