Sookie Merten
by Traci Merten
(Brampton Ontario)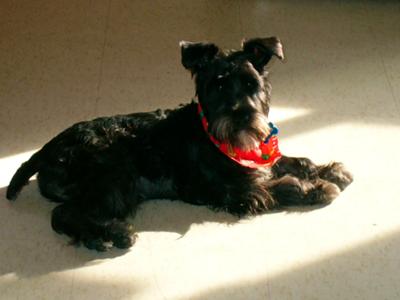 Sookie enjoying the warmth of the sun
We had been looking for a dog for a long time. We had to make sure to find one with hair due to allergies and i wasn't even really looking for a mini schnauzer but one day i saw her and her sister online. it was actually her sister i was looking at. We went to go get Sookies sister and the moment we walked into the room, we knew Sookie was the one for us. It was love at first sight.

Sookie has an amazing personality - so much that everyone knows her and the whole neighbourhood just loves her too. She is great with kids loves other dogs to play with. Sookie is definately the best dog ever. I love her mischievousness. My most favorite time of the day is when i get home from work because my baby cakes (Sookies nickname) is there waiting for me with a great big kiss and tail wag. It just melts my heart.
Return to 2012 Schnauzer Photo Contest .