A Tribute to Silky Schnoodle


My sweet angel, you were and still are my soul mate. You came into my life on Oct. 9, 2003, unexpectedly. That rainy day when I went downtown, I never expected to come back home with the smartest, prettiest, most loving little Schnoodle girl. You were only 2 years old and had already been abandoned and abused. I adopted you on the spot and that was the best decision I ever made.
You brought me joy during very difficult times. You brought me unconditional love, laughter, companionship and greeted our new family members together. You were the apple of my eye and I enjoyed going for walks around the lake with you everyday. I remember you loved it too and were getting all excited when we I drove closeby. I took you everywhere with me. You were my baby, my best friend.
Unfortunately, you left too soon, at the very young age of 5. Cancer took you away from me on November 20, 2006. I know you are waiting for me across the Bridge, along with your siblings. When my time comes, we will be reunited again to never part and we will go see our Creator together.
In the meantime, I miss you terribly, even after a year since you crossed the Rainbow Bridge. Just wanted to tell you how much mama loves you and look forward to the day when we will be together again.
I love you angel,
Mom Linda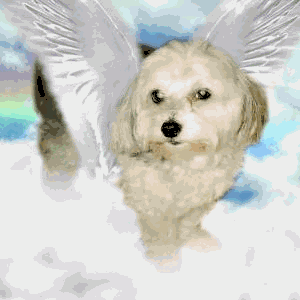 Silky Schnoodle
12/01 ~ 11/06
---

Go from Silky Schnoodle to About the Miniature Schnauzer on Schnauzers Rule