Sheree Maltepoo
by Linda Barrette
(McKinney, TX, USA)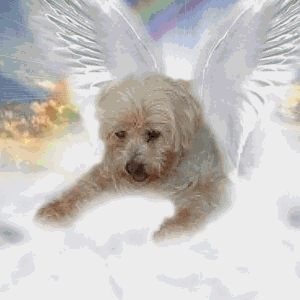 It all started when your human sister, Sabrina, saw your cute face on a rescue website. She called me immediately to tell me to check you out. The minute I saw your face, I knew you belonged in our home. You had been rescued from a terrible life in a puppy mill. You were found on the cement floor of a breeding place, left to die, in an awful health condition.

Although you were already a senior and had a heart condition and you were blind, I knew you belonged to us. We adopted you on October 31, 2004. You had many health issues to overcome and brought joy to our house for the short time you were with Silky and I. Your furry sister loved, guided and protected you constantly. You were my "pretty blond", my sweet Sheree.

You let us know it was time for you to go to a better place and be relieved of your pain on February 19, 2005. To this day, I miss you. You had a tremendous impact on me and I learned from you, Sheree. I know we will be together again with your siblings across the Rainbow Bridge someday.

You will always be mama's "pretty blond", so dear to my heart.