Schnauzer of the Month Photo Contest
February 2011 Schnauzer Winner...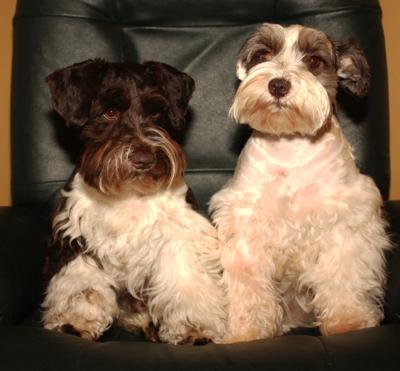 A big thank you to all our contestants for sharing such wonderful photos of your Miniature Schnauzer with us. Judges always have such a difficult task in choosing just one winning photo from so many cuties!
Click here to find out all the details on how you can enter your Miniature Schnauzer in our next "Schnauzer of the Month" photo contest!
---
Want to See All the Schnauzer Photo Contest Entries
This is Butch. He is one year old, and is my favorite creature in the whole world.
Roxy became a part of the family shortly after my husband was deployed to Iraq. She is now 3 years old. She was born in Germany, and is a world traveler....
Daisy Mae is a 5 year old female. She came into our life when she was 4 months old. We have fallen in love with her! She is not only a loyal protector ...
I rescued Toby from a shelter a few weeks before Christmas. He will be 2 in June and I can not imagine my life without him! He is very very sweet and ...
Hanz is a very special schnauzer who pawsitively lives his life to the fullest. He wags his way into hospitals to cheer up patients with his canine comical ...
Bogie came to us to be a friend for my Labradoodle named Lola. He is the perfect playmate for her and also loves our long walks through the woods and ...
Jacob is the newest edition to our family. We have had him 2 days now and already he's a joy. Jacob has got the best personality, and loves to give lots ...
Sookie is the most loving dog. Sookie is 9 months old and she loves to cuddle. Most of all she loves to play in the snow. My husband takes her to a dog ...
Rose was born December 12, 2007.
Rose LOVES any sort of treats, eating, snow, dancing, shaking, playing with her rope, wearing her jackets, looking pretty,...
Tito is a native Texan born in the East Texas area. He was born in January 2010, and picked up on February 27, 2010. My son and I were so excited to ...
Schultz came into our family three weeks ago. He shows us daily what is really important in life. We can see his excitement when he discovers something ...
Gracie is a female, she was born on July 7,2010 We have only had Gracie for about 2 weeks. She is so sweet. She loves to cuddle. We went to a pet store,...
Weezy was a gift from my fiance at Christmas. I have always wanted one. She is loving, energetic, lots and fun and keeps our basset hound, Bella, in ...
Miniature Schnauzers Sophie and Sammy 
They are our beautiful AKC Chocolate and White Parti Miniature Schnauzers

They love to play with each other and play tug a war with ropes. They are ...
Miniature Schnauzer Luna Bonita 
Luna Bonita, was born in Venezuela in 2007. She is 3 years old. We were looking for a pet for our daughter; she was an allergic kid so we needed a special ...
king milo is a very sweet boy he loves to cuddle with his family and watch tv we sometimes forget he is a dog and not a person
---

Go from Schnauzer Contest February 2011 to About the Miniature Schnauzer on Schnauzers Rule
Go from Schnauzer Contest February 2011 to Miniature Schnauzer Contests