Schnauzer Assistant Innkeeper
by Sam Feldman
(Eureka Springs, AR)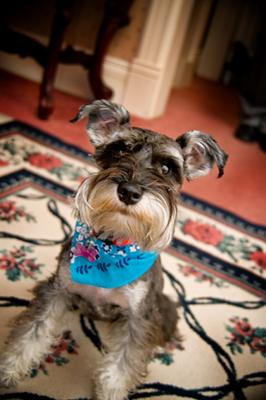 All dressed up and nowhere to go.
Countess Sophie Marie ("Sophie" for short) is our assistant innkeeper at our bed and breakfast in Eureka Springs, AR. She loves greeting the guests and is often found cuddled up with them in their guest rooms. Sometimes when she sees guests unloading out front, she'll run down the stairs to where we are and sit and wiggle her tail and body as if to let us know "somebody's coming!". Then the doorbell will ring and she'll dash back upstairs to the front door. She never barks at the doorbell or the guests. She also is trained - she is sooooo smart! - to not come in the dining room at breakfast time and will sit very quietly in the doorway, waiting until all the plates are put up and folks are done eating, then she comes in.

Since we do not have a fenced yard, Sophie is walked on a leash about three times a day, first thing in the morning and then almost exactly at 11:00 and then again at 4:00 - it's almost as if she has her own watch, she'll come and tell you when it's time! She is by far the smartest and most loving dog we've ever had and she has completely stolen our hearts, as well as those of our guests. We will now always be owned by Schnauzers.

Schnauzer of the Month Winner