Sammie Poochon - Bichon Poodle
by Linda Barrette
(McKinney, TX, USA)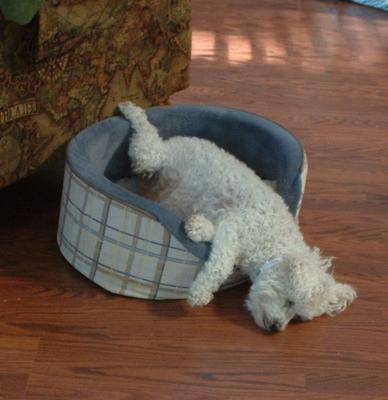 Sammie Poochon, I'm pooped
Your life started in a puppy mill and that's what is was for the first 6 1/2 years of your life. Until a wonderful lady rescued you. She took you into her home, took care of you and brought you back to health after you had so many babies.

I had just lost your Angel sister Silky and my heart was aching so much. After she passed, I spent the next two weeks looking for another little Schnoodle... and came across you, little Samantha, a Bichon/Poodle mix. Immediately, I knew you were the one. You never replaced Silky and never will because you are one special little girl, just like your sister was in her own way.

When we got you from your rescuer on December 3, 2006, you were so afraid but warmed up to us quickly. We named you Sammie as you seems to like that name better. We learned what a little clown you are and how loving, funny, cuddly, playful and smart you can be.

You are unique, Sammie, and I would never let you go, ever. You have found your forever family. Your siblings love you and mommy and your human sister adore you, sweetheart, my little Poochon girl. You make me laugh, you make me feel loved and you bring joy in my life.

You are unique, Sammie, and that's the way it should be.

I love you crazy!