RUHA Leather Dog Collar

Every dog needs a collar and a RUHA Leather Dog Collar is an excellent choice if you want a beautifully crafted, handmade, personalized collar for your Mini Schnauzer, that will stand the test of time.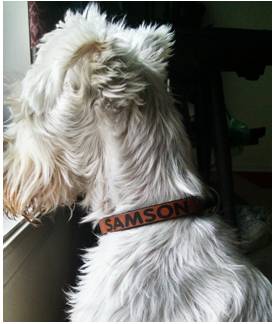 SAMSON Loves his new RUHA Leather Dog Collar!
About RUHA Leather
RUHA leather is 100% full grain, vegetable tanned cowhide, the most eco-friendly way to tan leather. This process leaves the leather free from harmful toxic chemicals in compliance with California and US Environmental Regulations.
I have to admit, I didn't know too much about leather or tanning leather prior to this article so I did a little research and here is what I found out:
About Grains & Tanning:

Full-Grain Leather: The term refers to hides that have not been sanded, buffed, or snuffed to remove any of the imperfections or natural marks from the surface of the hide. The grain remains, allowing the fiber strength and durability. The grain is also breathable, resulting in less moisture from prolonged contact. Rather than wearing out, full-grain leather develops a patina over time.
Tanning Leather: The tanning process is what transforms the hides and skins into leather. The 2 main types of tanning are chrome and vegetable tanning.
Chrome tanning uses a solution of chemicals, acids and salts to dye the hide. It's quick and easy to produce so it's cheaper to make. That being said it's not good for the environment, it often smells of chemicals, it doesn't wear well with time, and the final product lacks the warmth and charm expected of leather goods.

Vegetable tanning, on the other hand, is an age old tradition and usually only very skilled craftsmen produce and dye the leather. The ingredients used are those found in different vegetable matter, such as tree bark prepared in bark mills, wood, leaves, fruits and roots and other similar sources. Vegetable tanning takes a long time and more skill, using traditional craftsmen techniques that are mostly done by hand. And while vegetable tanned products are a bit more expensive, they're definitely worth it. Vegetable tanned leather is far superior, will last longer and is natural. They will actually improve with age and develop a beautiful patina over time.
So you can see that vegetable tanning is the way to go. 
SAMSON Loves his new RUHA Leather Dog Collar!
---
---
Colors: Ruha dog collars are made from one piece of leather that is finished on the back side with the same color as the full grain, front side. They offer 3 colors: Red, Tan and Vintage White.

Laser Precision: A laser beam permanently engraves the collar's design, dog's name and contact information into the leather. Then, the same laser beam cuts out the holes and collar. The laser beam is 1/1000 of an inch in diameter, making the holes and engraving precise.

Hardware: Another great feature of RUHA dog collars is they don't use any stitching or glue, so there are no worries of your dog's collar fraying or coming apart from wear over time. Instead RUHA uses rust resistant nickel-plated steel hardware for their rivets, buckles and D-rings. It is strong, sturdy and very durable.

Personalize It: RUHA Leather utilizes laser engraving to permanently and beautifully identify your dog's name on the collar. And if you like you can also add your contact information eliminating the need for dangling ID tags.
RUHA also creates beautiful key fobs, bag tags, wrist bands and signs. 

RUHA dog collars are durable yet gentle, and, if well maintained, can stand the test of time.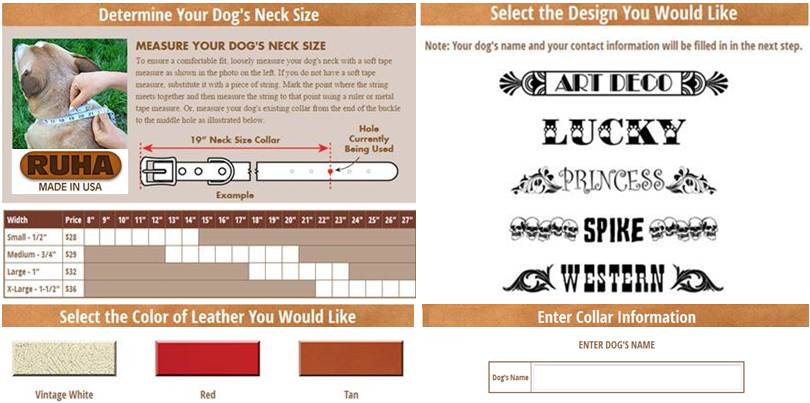 Ready to order? Well, RUHA makes creating and ordering your personalized leather dog collar super easy, too. Here's How:
Just head over to RUHA.com and click on Dog Collar Builder under Product Builder.

Measure your dog's neck size with a soft tape measure. 

Then select the color of leather you prefer.

Choose a design from one of the 5 available.




Add your dog's name and desired contact information.

Enter Coupon Code RUHA20 for a 20% discount plus Free Shipping! A special offer for Schnauzers Rule! Aroo!

ORDER NOW - LIMITED TIME OFFER!



After entering all the required information the product builder will show you how how your dog collar will look. If you need or want to make any changes, simply click on the back button and edit. Once you're happy with your creation, place your order. It's simple.
And here's another perk when choosing RUHA to customize your dog's leather collar... they will work with you to create your own custom ideas, too. Now that's service.

Schnauzers Rule gives RUHA Leather 4 Paws Up!
---
---
| | | |
| --- | --- | --- |
| | RUHA Leather Dog Collar GIVEAWAY | |
Thanks to the our friends at RUHA, one lucky Schnauzers Rule reader will win a personalized leather dog collar for their Mini Schnauzer. 

How to Enter in 2 easy steps:
Like RUHA facebook fan page (if you're on facebook)


Post a comment below, like: My Mini Schnauzer SAMSON would love a RUHA collar.




A winner will be chosen at random on Monday December 14, 2014 from all those who post a comment by midnight Sunday December 13, 2014. So like the page, post a comment, and Good Luck! Aroo!
note: If you do not have a facebook account you may still enter the contest. Just fill in the CONTACT FORM with the following information: Write RUHA Dog Collar Giveaway and provide us with your name, mailing address, phone number, and email address.
Sorry, this contest is now over.
And the Winner is...
Debra Carter & her Mini Schnauzer Holly!
Entry Release & Disclaimer: This contest is sponsored by RUHA Leather and is in no way sponsored, endorsed or administered by, or associated with, Facebook. By entering this contest, each participant agrees to release, discharge, defend and hold harmless Facebook, and Facebook subsidiaries, affiliated companies, licensees, and assigns, and their respective officers, directors,employees, agents, and representatives from any claim or liability arising from or related to submitting an entry.

---
Go from RUHA Leather Dog Collar Review About the Miniature Schnauzer on Schnauzers Rule
Go from RUHA Leather Dog Collar Review and Giveaway back to Contest page
Related Topics:
★ Dog Product Reviews
Ruha.com offered to send me a personalized dog collar for my Mini Schnauzer SAMSON. This article is a review of the product and the customer care service I received from the company.