Reginald Von Schnauzenhaur
by Barbara
(Brandon MS, US)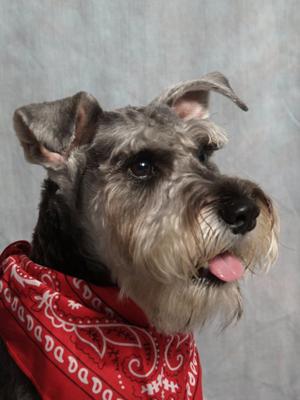 My lil' sheriff
Reginald Von Schnauzenhaur (Reggie)is a wonderful asset to me. I have raised Lhasa Apso's my whole life and after losing my last one of 13 years, I decided I wanted an energetic dog. Reggie is exactly that! He is spunky, funny and the love of my life. He is friendly with people and animals alike. He believes that everyone should love him as much as he loves himself. We go for long walks and he wants to stop and visit everyone he sees.

Reggie's favorite play time is with balls, he loves to fetch smaller ones and tries to ride the larger ones. His newest talent is singing. His favorite song is the Meow Mix commercial on T.V. Every time it comes on he sits in front of the t.v. and shoots his ears straight up and starts singing at the top of his lungs. He also talks when I tell him I love him. I love how smart he is and so easy to train. Reggie is the greatest!
Return to 2012 Schnauzer Photo Contest .