Reco
by OJMH7
(Maracay, Venezuela)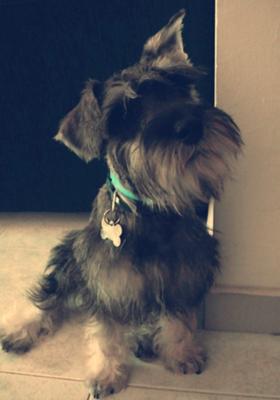 Miniature Schnauzer Reco
Hi everyone here I present to you "Reco" my male miniature schnauzer 9 months old. Let me start by saying that we are from Venezuela. Reco lives with me and my family (my parents and my sister). He was a gift to my sister and she was the one who chose that name for the dog because he was the smallest dog of the litter, his legs were less long than their brothers and looked as if they had been cut with scissors and well "cut" means in Spanish RECOrtado and that's why she named the schnauzer "Reco".

I've always liked big dogs so at the beginning I wasn't very excited about having such a small dog as a miniature schnauzer but let me say it didn't take more than a week before I've fell in love with this animal. The way he receives you every time you walk home is incredible. It's like you were gone for months and you just really went out for 1 hour.

Reco is such an intelligent dog, you don't have to tell him more than twice before he gets it. He is so energetic always running and bouncing everywhere and so friendly and loving to everyone. It doesn't matter if he just met them,he loves everyone and that's why my whole family and friends love Reco.


Return to 2012 Schnauzer Photo Contest .