Ready for the rain!
by Julie Ouellette
(Pitt Meadows, B.C. Canada)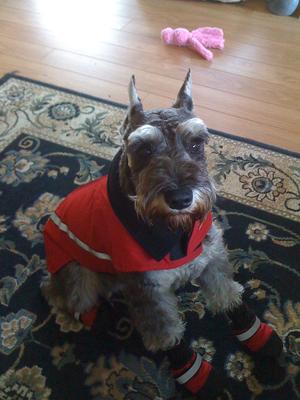 We had made the decision to get a mini Schnauzer puppy. We sought out a reputable breeder and when we visited the litter we were amazed at how much love and happiness we saw. Our minds set on a puppy, in comes "AL", a one year old mini who made an impression and who actually chose us. We thought we would take him for the weekend to see how we liked each other and within an hour, we fell in love.

His name on his birth certificate is "It's AL about me" and let me tell you he lives up to his name. We live in Vancouver, B.C. and it rains, a lot! What better way to keep Al dry from the rain then to wear his wellies and rain coat.

Originally we did not want Al sleeping with us, but one night my husband let him on the bed and that was it - he won't sleep anywhere else! He cuddles up with us every night. He is definitely the center of our universe and we would be lost without our beloved Al.
Return to 2012 Schnauzer Photo Contest .