A Tribute to Pepper Schnoodle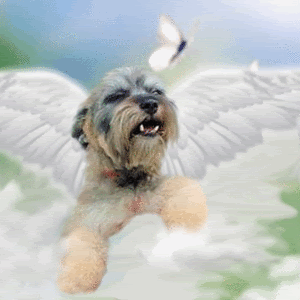 My sweet Pepper Schnoodle was humanely euthanized on April 17, 2009. He was only 2 years old. He had been declining rapidly recently due to his kidney failure. He has been on fluids daily for the past year, since I took him back from his adopter after he suffered a heatstroke.
Even though I knew he was not to live to be very old and it would come to that eventually I am totally heartbroken. I had adopted him some months back because I wanted him to know he was my wonderful boy, he had a permanent home and I loved him so much.
I miss him so much. So sad to see that wonderful, loving, gorgeous, smart boy decline because humans were cruel, heartless and left him in the scorching Texas sun without water and shelter, in summer, because they didn't care. Because to them, he was JUST a dog.
Pepper was my foster, was adopted and was given back after becoming ill. Regardless of his illness, I wanted him back. He was worth loving, caring for and we decided he was one of the pack permanently.
You will be in my heart forever my sweet Schnoodle boy.
Mom Linda
Pepper Schnoodle
02/07 ~ 04/09
Pepper Schnoodle is now a beautiful Angel and will continue to watch over his family until the time comes for them to be reunited. Fly high my friend.


---

Go from Pepper Schnoodle to About the Miniature Schnauzer on Schnauzers Rule
Go from Pepper Schnoodle to Pet Loss