Penny's Misty Girl
by Penny H
(Metro Detroit, MI)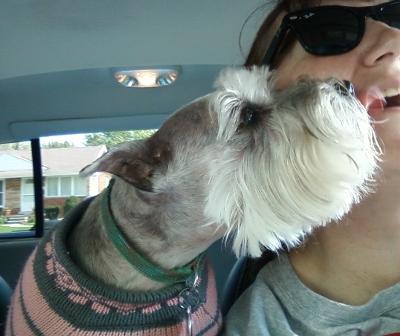 Misty w/ Mom Fall 2011
My Misty girl died in my arms this morning (May 24th), just after 4am. Boy am I going to miss her. I never exaggerated when I said she was "my furry little heart". She taught me about dogs and how to be a better person - more gentle, more soft spoken, more kind, more loving, and more giving. I didn't need to know how to be more stubborn - I already had that figured out. I would be a lesser person today without her kind and loving influence. I miss her in the front window when I come and go (she hasn't been able to get up there since February) and I'm really going to miss her joyful greetings with tail wags and kisses. It feels like I've lost an appendage and now I'm incomplete, Misty was my first.

She didn't quite make it to 11. My littlest brother Brad & my Dad came across Misty in the Fall of 2001. We think she was born in July or August. Brad talked me in to going halfsies with him to get her and we brought her home in November that year. Now both Brad and Misty are gone and he'd better take darn good care of her until I get there!

Pepper is a blessing. She is the 2 yr old puppy mill toy schnauzer we got on March 24, this year from Ron's Rescued Rascals. It was a wacky weird series of fortuitous conditions and it seemed extremely poor timing- when I found her up for adoption. Now I realize she is a gift and a blessing (more than I had ever thought). If I had lost Misty back in February when she had the pinched nerve and possible stroke... I would have been inconsolable and completely devastated. Now I'm both sad and glad and thankful for both girls.

It's been a week and a half now. Some days seem ok, I have some moments of pure joy just thinking about her and then there are the moments that seem drowned in tears so deep that I will have trouble swimming. Last night was one of those nights that I cried myself to sleep. I knew she would have to leave me some day. I just always wished it would be together. She really has been my best friend and true companion for the last, almost, 11 years.