Our Handsome Boy Walter
by Michele
(Charlotte, NC)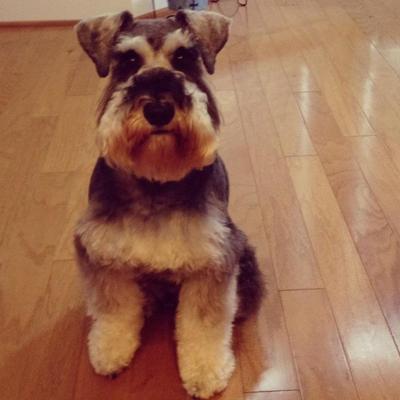 Miniature Schnauzer Walter
Walter is the light of our lives. He is almost two years old and full of love, energy and lots of cuddles. Walter loves to play with our big cat Charlie and especially loves playing fetch with his Poppa and Uncle Robert. Outside in the backyard is his favorite place to be - rain or shine - and he especially enjoys it when his humans are out there with him. In fact, it was the backyard that made for the easy adjustment when we moved from Chicago to Charlotte. I think Walter felt that swapping the snow for a yard was a fair deal (boy oh boy, does this dog love the snow!).

Walter will do pretty much anything for a piece of chicken, and he's been known to enjoy some roast beef every now and again as well. He's never the first to end a cuddle session, and certainly the last to end a session of fetch. Our fun-loving little boy is a blessing and we could not feel any luckier to have him in our lives.
Return to 2012 Schnauzer Photo Contest .