Olivia "I run this show" Newton
by Justine Thomas
(Dighton, MA, USA)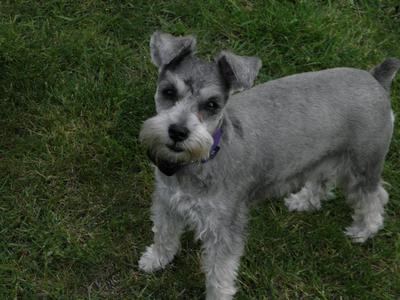 Mini Schnauzer Olivia
My mini schnauzer's name is Olivia. She was given to me as a Christmas present from my parents. She immediately became a member of the family with her over the top personality. She definitely suffers from Napoleon syndrome.

Olivia romps around the yard knowing she owns it with my parent's 90 lbs boxer (Cooper). When there is someone walking up the street, she barks from afar and then lets Cooper do the dirty work. She also attempts to howl along with Cooper as he howls at sirens. Have you ever heard a Schnauzer try to howl? It's not pretty, but she tries none the less.

Cooper and Olivia, the awkward best friends that they are, provide entertainment for the entire neighborhood.