NOAH
by JAMES WEINSTEIN
(FORT WRIGHT, KENTUCKY)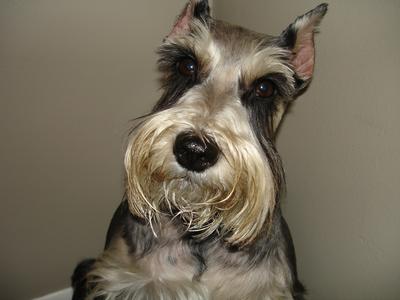 NOAH WAS A RESCUE SCHNAUZER. I GOT HIM WHEN HE WAS 2 YEARS OLD AND NOW HE IS 5. HE HAD A LOT OF ISSUES... NEVER BARKED... AFRAID OF THE FLOOR... WOULD NOT EAT IN FRONT OF ME. I HAD TO PUT HIM IN MY BED AND LEAVE THE ROOM SO HE WOULD EAT. HE STAYED IN THE CORNER FOR 3 MONTHS THEN FINALLY CAME UP ON THE COUCH WHERE HE STAYED FOR 1 1/2 YEARS AS HE WAS AFRAID WHEN ON THE FLOOR. HE FINALLY WENT INTO THE OTHER ROOM WHEN I WOULD GO TO WORK.

ONE DAY I CAME HOME AND HEARD SOMETHING BUT DIDN'T KNOW WHAT IT WAS. EVERYDAY WHEN I CAME HOME FROM WORK IT GOT LOUDER THEN I REALIZED IT WAS HIM BARKING AT ME COMING HOME SINCE HE DIDN'T SAY ANYTHING FOR 2 YEARS I THOUGHT WOW!!! AFTER 2 1/2 YEARS HE IS FINALLY BECOMING A DOG.

NOAH CAME FROM A PUPPY MILL AND HAD A LOT OF ISSUES. NOW I HAVE HAD HIM FOR 3 YEARS AND HE FINALLY IS A DOG. HE HAS COME SO FAR BUT STILL HAS A FEW ISSUES. BUT OVERALL HE S MY HANDSOME SCHNAUZER.