My Sweet Sweet Fighter Tucker
by Kim Whiting
(Littleton, CO)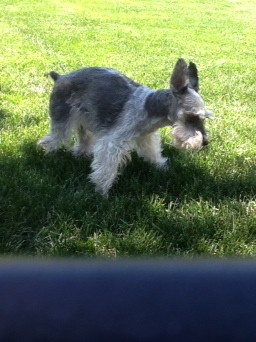 Tucker was my canine enigma. She was diary with lymphoma in late January 2015 and lost her battle today, April 12th. She was a fighter up until the end and helped to make it easy for me to know I made the right decision to say goodbye.

Unlike any minni schnauzer I've ever known she made me work for every hug and kiss. Although she pretended to be aloof and not into snuggling, she was at heart, a big softie and a goof ball.

She and I went on many adventures including camping, rtv'ing, car rides, and long walks and I will always remember her greyhound moments running like a bat out of hell around the house, tossing her carrot into the air and her deer-chasing escapades.

She loved her best buddy Coalby Jones, a black lab who preceded her with the Angels and I laugh to think of his dismay when she arrived this morning to harass him again!

My heart aches and the emptiness in my home is only matched by the emptiness in my heart. But I know she's in a much better place and I was so so blessed to have her for 14 wonderful years.

Keep wagging that tail in my heart Tucker.... until we meet again my sweet sweet girl.