My Shadow Ghost
by LouAnn Albert
(Richmond, VA)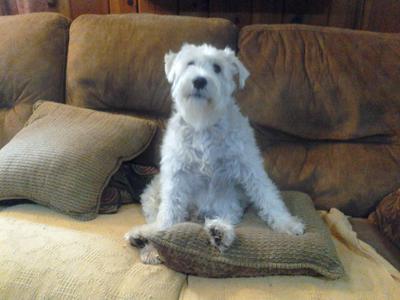 I lost my shadow Ghost on Friday 13th. He was a very sweet and lovable little boy. I couldn't go any where with out him, go hang out laundry he would lay and watch me then follow back into the house, go check the mail & he was right there. We would sit in the yard together and play. He had a wonderful personality he ruled the house. He was a comic we were always laughing, even when watching the TV he would act up, so we would watch him instead of the movie and miss the best part because we rather watch him.

I miss him snuggling with me at night. In the morning he would get up on the sofa and back up to sit on my husbands lap. He needed a pillow, your foot, or your lap to sit on not on the floor.

He loved our country place, he would run and play until he fell out he loved looking for farm mice. When we packed up to go home he seemed to know so he would sulk all the way, because his hard at home isn't a big as the country.

I love you so very much my Lil Ghost, you were taken to soon, you were only 6 years old & I wasn't ready to loose you. I thought you would out live me so I wouldn't suffer with a broken Heart. We gave you a happy home, you were never left alone. I miss you I keep looking for you around the house and at the farm, where I put you at rest with your pillow. We will meet again soon my sweet puppy.

I went to the farm today & put flowers on your grave along with my tears. Rest my sweet boy. Ghost had terminal cancer, now he is without pain.