My mini schnauzer alarm clock!
by wxang
(singapore)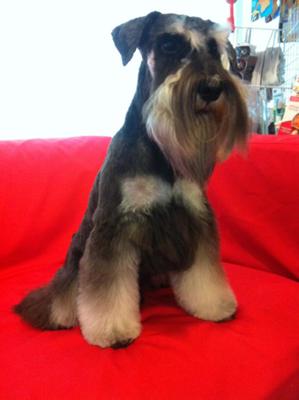 Mini Schnauzer Keewi
Keewi just turn 1 year old on 2nd June 2012.

He joins the family when he was 4 months old, he was so adorable and my family loves him to bits.
He is clever and learn commands fast. On average, he learn new command every week, commands include sit, stay, down, treats, breakfast/dinner, gaigai (out for walk), go round, shake hand, stand, and many more.

He was protective but not aggressive, barkish but not for no reason. He was truely a man best friend!

Keewi joins me for jogging every weekend even when he is lethargic, he chooses to keep up with me, basically he just does not want to loss sight of me.

He wakes me up daily when my alarm clock rings, he will scratch my head with him paws and breathe on my face, just to ensure I'm awake. He follows me around the house, watches me wash up, watches me change and goes back to sleep only when i leave the house. (sometimes he will dose off outside the toilet while waiting for me) :)

Keewi is probaly the sweetest thing from heaven to earth.