My little man Charlie
by Mary Palmieri
(Irmo,SC USA)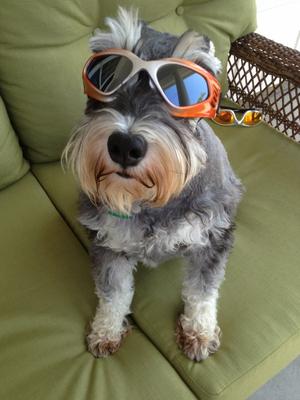 Mini Schnauzer Charlie
I had a friend who was going through a rough time in life and I told her she needed a Schnauzer, that would help her more than she would ever know. Well, she asked me to start looking so I did and I found a wonderful breeder and got Lily for her she is solid black, I already had a white Schnauzer. It was about a week after my friend had her Lily that she was a new person and the breeder called me asking if I knew anyone who would be interested in one of her brothers. Well need I say more...

I went to visit and that's when our eyes met and I knew he would be the love of my life, my Black & Silver Charlie. He is my everything, he even rides the Harley with me and has been to Daytona bike week 2 times. The more bikes and people, the more he loves it. He wears his goggles until I set him on the ground then he pulls them down. He has a leather look biker jacket with a BITE ME patch sewn on and he is the life of the party. I have a video on youtube of him riding he rides on a sheepskin and has a harness on that's attached to me so I don't fall off... heehee.

Charlie loves me to pieces and if that door opens he's ready to go. He loves the ocean too. I've taken him rafting and I don't think there's anything he wouldn't do, or places he wouldn't go. He's just my amazing little man... Oh yes he has his own facebook page Charlie TheSchnauzer you can be his friend....

Personally I've had so many different breeds in my life, but I've had 3 Schnauzers and they are the only breed for me. Like I tell everyone if God made anything better, he kept it for himself!!!