My Dearest baby Coco
by Iwona
(Winnipeg, Manitoba)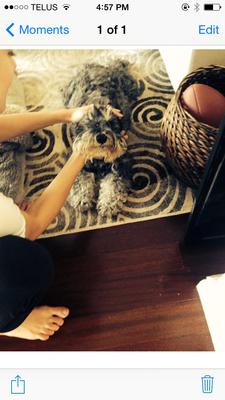 Five days ago, on Oct 14,2014 I said goodbye to my sweetest girl Coco(Chanel No5) she truly lived up to the name, with the personality of a princess and soul of an an angel.

She was only 11 and lost 2 month long battle with kidney failure and pancreatitis. She was my other daughter, my friend, my loyal companion( especially in the kitchen!) my snoring buddy, true love of mine. I'm lost without her, my heart is shattered and I can't stop crying. She died in my arms looking at me with those big, loving eyes. When her heart stopped beating, her eyes would not close and I could not believe she was gone. I held her in disbelief praying for miracle, to come back to me. I left her at the hospital wrapped in he blankie and I'm waiting for her ashes. I'm waiting for her to come home. She was the biggest joy of every day.

After my daughter left home to go to school in Vancouver, she was my only child left at home. I will miss forever her schnauzer talks, the endless kisses, comfort and endless love she gave. I will see you again my sweet Coco.