My Chachi Dog aka "Mr Dog"
by Shelia Waltrip
(Santa Fe, NM)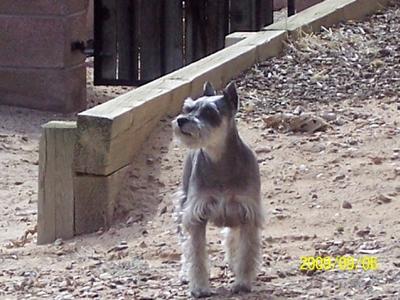 Chachi was at the pound 7 years ago after his owner surrendered him; she noted she couldn't afford to care for him. He was pitiful; only weighing 11 lbs, hair loss, listless, poor eyesight from malnutrition & with kennel cough. Rick said, "are you sure that's a schnauzer?" His bone structure, face & stance was so perfect I had no doubt.

We didn't do anything special; just love & proper care. It took him 6 months to learn to use the doggie door, and he was just not interested in food. He wouldn't eat anything healthy, so I finally had to let him have "Kibble & Bits". It must be the junk food of the dog world, for that he would eat.

Slowly he improved and became the devoted companion & fun loving dog you all know was in there. We had 7 great years, that made him 14 this year. He crossed the bridge this year on Good Friday evening April 6, 2012.

There will likely be another Schnauzer in our family, but none like our first love, Chachi dog.