My Baby Boy ButterBall
by Trish Hoffman
(Gordon NE, USA)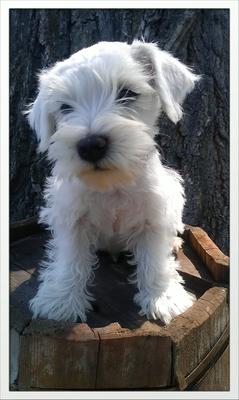 My Miniature Schnauzer Butterball, affectionately named so for his round little mid section, is from a litter of 4, by my mamma schnauzer Miss Lulu. His personality is as bright as his coat color!

Loving, loyal, energetic, and even a little naughty are words I would use to describe this little fellow. He does the cutest little kangaroo hop on all four paws and with each jump he lets out a little puppy sized bark!

I have many pictures of him "caught redhanded", my favorite of which was taken after I found one of my flower pots turned over on the front porch. He came up to me, turned his head sideways, and gave me this look as though he had done nothing at all wrong, but what he didn't realize was that his beard was completely covered in dirt!

Butterball, by an act of fate, has found an amazing home with Father Vince. Who better to take on this bouncing personality than a man of God.