Miniature Schnauzer Breed Info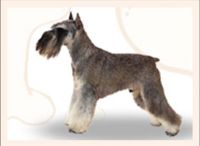 Miniature Schnauzer Breed Info & Training Course offered by Train Pet Dog
Miniature Schnauzers originated in Germany and were first bred as small farm dogs to chase down vermin. Today, the Miniature Schnauzer is bred for the pleasure of companionship.
Miniature Schnauzers have very recognizable characteristics including bushy eyebrows and beard, as well as furnishings. They are compact, muscular, and square in shape, standing 12 to 14 inches tall. This sturdy but elegant small dog breed is very obedient, keenly intelligent, devoted to his family, and extremely affectionate displaying child-like mannerisms.

Mini Schnauzer owners affirm... these dogs have a positive impact on one's family dynamics, relationships, everyday life, and play an integral part of a happy home... so much so, Schnauzer owners would never even consider owning another dog breed. In fact to these owners:
"If it's not a Miniature Schnauzer... it's just a dog"
Miniature Schnauzer Breed Info
The links in the boxed area above will guide you to pages that will answer all your
questions about the Miniature Schnauzer
(or use the search box below). The
Mini Schnauzer videos
provide further insight on the breed and joy of having one of these charming dogs as a companion.
Search Schnauzers-Rule.com
Custom Search
Miniature Schnauzer Breed Info from the American Kennel Club: The Miniature Schnauzer is known for his distinguished, handsome appearance, which is characterized by its whiskers and double coat. The top coat is wiry and the undercoat is soft.

Coat colors can be salt and pepper, black and silver and solid black. Despite his small stature, he has a naturally protective nature, making him an excellent watchdog. His temperament is alert and spirited, yet obedient to command.

Mini Schnauzers are friendly, intelligent and willing to please. They should never be overaggressive or timid.
Mini Schnauzer Quick Facts

Share our fun Schnauzer infographic with quick facts about our favorite dog breed.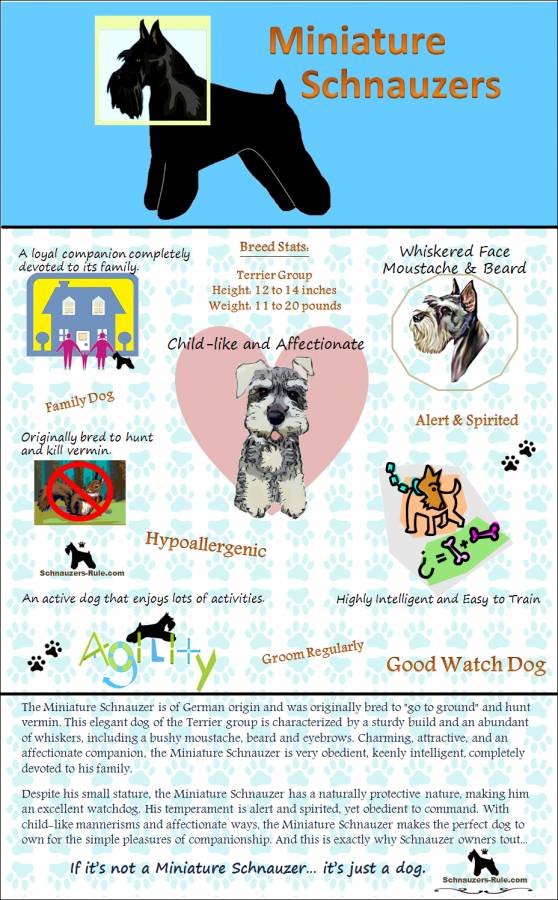 ---
Go from Miniature Schnauzer Breed Info to About the Miniature Schnauzer on Schnauzers Rule