Max
by cesar
(Lincoln Park, Michigan)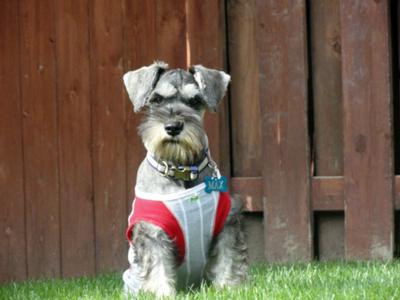 Miniature Schnauzer Max
Max is a 11 month male miniature schnauzer that was born on April, 26 2011. My dad bought Max for my brother's birthday because he always wanted a miniature schnauzer. We got a miniature schnauzer not just because they're smart but also because they're one of the smartest dogs out there. I named my dog Max because that name just came to my mind the moment a bought him.

Max is about to turn 1 this April of 2012. Max is my best buddy, and all of my friends constantly hear stories about him. He literally stops traffic on my street (the newspaper deliverer has to get out of her car to pet him). He is so friendly and makes friends wherever he goes. Max loves doing any activity with me by his side and I could say the same.

I wouldn't be able to live without my mini schnauzer Max by my side. He puts a smile on my face every day whether good or bad and he amazes me every day.