Jester
by Janice Ross
(Durham, UK)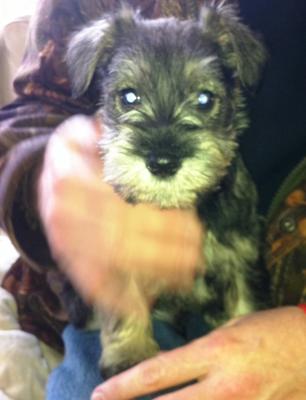 The day we met Jester
Jester is our very own mystical creature. We believe he was sent to us by some mystical force to make us smile. After losing Rex our Patterdale Terrier in October 2010, we were devastated and said we wouldn't replace him.

By the February of 2011 our home in Durham, United Kingdom, felt too quiet and we changed our minds. After some careful research we set our hearts on a Miniature Schnauzer, as they are good for people with asthma (which my husband has).

By chance I asked someone I knew if they could tell me of any Schnauzer breeders and he said his Miniature Schnauzer Molly had delivered pups on Christmas Eve. They were ready for housing. There was a pepper and salt dog left and we went to collect him that week.

We just wished for him and he appeared! We called him Jester because he makes us laugh every day.

Since then, he has grown into a beautiful and loving pet and he is famous in our rural village; everyone loves him.

Now, inspired by the fun he brings to everyone, we have set up a business selling the kind of things Jester likes.

He loves playing and can play for hours with one toy - his favourite is a soft toy pheasant called Phillip. It was bigger than him when he got him and it's the only toy that hasn't been chewed to bits. He loves him and snuggles into him whilst he is sleeping.

His first holiday was by the seaside and ran for hours on the beach and then schnoozed like only a Schnauzer can when we got back to our cottage every night.

He has quite simply changed our lives.