Is It Spring Yet?
by Leslie
(Salina, Kansas)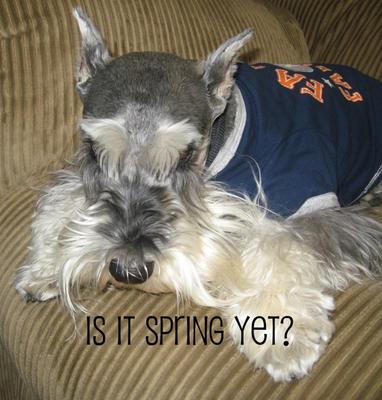 Mini Schnauzer Miles
We got Miles when he was twelve weeks old and he has taken over our lives for five years now. He is Mr. Personality!

He loves being in the back yard chasing squirrels and balls. He is a very good short stop! Miss Marlie, a calico kitten, joined our family a year ago. Miles was not sure about her. Within a month, Marlie was washing his ears and giving him a bath and he was in love! They even sleep together. When Miles goes for a walk, Marlie watches out the window for us to return.

Miles does not like water! I took him to the Pooch Plunge at the waterpark. He watched the other dogs in the water but did not want to get in himself. When I did get him in the pool, his collar got wet and stretched and he was able to get loose. He ran through all the people and found his way back to the parking lot and was going to the car when I caught up to him. I think we will stick to playing in the backyard!