How do you mend a broken heart? Lil Jakie
by Michael
(Saint Louis)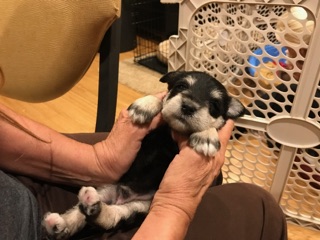 Lil Jakie 1
I was devastated. We had to put our little mini Jakie down. He was 17 years old and the best dog I have had. He was given to us at age 14 as a gift from a dear friend. He developed a cancer of the jaw. A big grown man crying over missing his best friend. I moped around for days.

Jakie was an exceptional dog and saw me through several surgeries and hard times. He never failed to make me laugh and was full of energy until the end. He would "snoot" me till I petted him, he used to sing when the phone rang and went crazy every day when I came home.

At the end, he was deaf. I had to carry him out (like a football) to go pee and I had to feed him by pushing bits of chicken through his missing front teeth I would have gladly continued doing this but the vet said he was in pain and was going to die within a week.

After a few days of the worst grief in my life, my wife suggested that I see a local breeder (Amanda Stallard) We did and I instantly bonded with a fantastic Phantom Black and Silver baby. I really miss my Jakie but the hurt is much less knowing I have a great pup on the way. Amanda is a great breeder and a mom to all her puppies. We named the puppy lil Jakie in honor of my old buddy.

My advise to all who hurt with the loss of their best friend:
You will not replace that old friend but give another one a chance to fill the void in your heart. I have attached a few photos of our lil Jakie and our original... Godspeed to all who morn the loss of a little friend.