Hey there Georgie Gurl
by Shannon
(Modesto, Ca)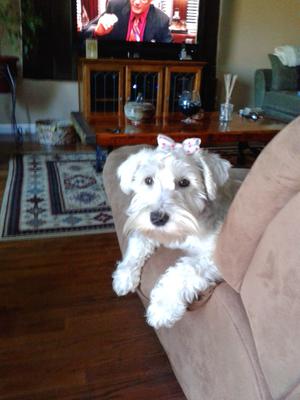 Georgie Gurl looking all dressed up cute
This is my heart throb Georgie Gurl. We had just lost our old lab Sara,va month before. She was 14. My Hubby's uncle, needed work on his tractor, and had NO money. Instead, he gave us a puppy. A little white schnauzer. That little puppy, quickly stole my heart. She potty trained well. She is smart, funny and most important, she is loyal and loving.

After having her a few weeks, I was diagnosed with Ovarian cancer. My sweet Gurl, is always comforting me. If i am not well, she will lay next to me, in bed all day. Her silly spirit keeps me smiling. I will never own another breed again.

My Georgie Gurl has a perfect cat. Who she loves. She loves to go bye bye. Her first birthday is in a few days. February 15, we planned a party for her. Our kids LOVE her. Georgie is a big hit with everyone. She is smart, she can fetch, catch, and give 5, and up high .

This perfect beautiful puppy came in our life at the best and worse times of our life. I can't imagine how tough a time I would have with cancer, if I didn't have her. I love her and can't wait to love her for many many years to come.