Hero Dogs of 9/11
Hero Dogs: A tribute to America's search and rescue dogs and a look back on the September 11 terrorist attacks of the World Trade Center.

We shall never forget!
---
It started out as a beautiful Tuesday morning in New York City but quickly turned into hell on earth as America was attacked. It was on that fateful day that al-Qaeda terrorists perpetrated one of the most horrific acts of violence ever seen against America, when they hijacked and crashed two passenger jets into the World Trade Center.
The two tallest buildings in the world would come crashing down in a matter of hours. Terrifying screams, choking dust and tons of steel and concrete would be the scene of Ground zero. Thousands of innocent Americans would lose their lives that day.
Emergency workers were quickly mobilized to answer the call for help. Among them were 300 hero dogs. They assisted firefighters, paramedics, police officers, and Port Authority officers in the search for life. They risked it all, scouring through the rubble, to help save a life.
And when no other signs of life could be found, these canines continue to then search for the remains of victims, in order to give grief-stricken families some sense of peace.
Dog Heroes of 9/11 Video
Dogs are heroes. Every single day they bring love, comfort, and companionship to so many of us. Whether they are Therapy Dogs, Service Dogs, or the family pet they are always ready to help us.
This year, when you take some time to reflect on the devastation that took place on that fateful September day and try to comprehend the terrible loss of life, remember our hero dogs.
---
Dog Heroes of September 11th: A Tribute to America's Search and Rescue Dogs

An oversize pictorial work which profiles various canines and the important role they played during the attacks on America at the World Trade Center.
Color photos on every page show these hero dogs at work and share comments from the owners that describe the dogs and the invaluable contribution they made to bring peace and closure to so many families during this tragic event.

Many individuals mention how hard it was for the animals not to find survivors, but what a comfort their presence was for the many firefighters and other rescue workers on the scene. Besides searching at the World Trade Center and at the Pentagon, dogs were used to locate remains at the Fresh Kills Landfill site.
The book also provides information about training dogs for search and rescue in America including the tasks they perform and FEMA certification.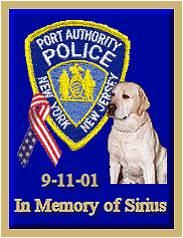 Sirius, a bomb detection dog died when the 2nd Trade Center collapsed. His partner, Officer David Lim was found alive.


Police K9 Sirius
Badge #17
Always Honored, Never Forgotten
Port Authority Police Dept.
Sept. 11, 2001


Search Schnauzers-Rule.com
Custom Search
---
Go from Hero Dogs of September 11 to All About the Miniature Schnauzer.
Go from Dog Heroes of 9/11 to Schnauzer Pet Loss Tributes
Related Topics:
★ Therapy Dogs
★ Service Dogs
★ Man's Best Friend
★ Fire Safety Pet Tips
★ First Aid for Dogs