Happy puppy
by Aisha Tareen
(Justin, Texas )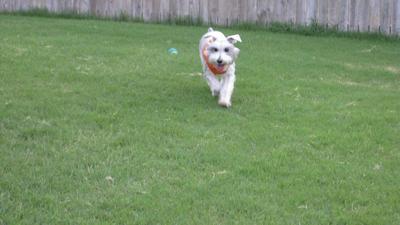 My dog Rocky is always a happy boy, this picture is of him as a puppy. He loves to go for walks, play with his many toys, and fight for Mommy and Daddy's attention with our other Miniature Schnauzer, Mandy.

Rocky came from a litter of 7 puppies, but somehow he ended up being the biggest one! He is about 25 lbs but he is just a big boy, not overweight. Rocky's two favorite things are his sweater and his stuffed cat toy.

Rocky is 2 and a half years old now, but he is still Mommy's little boy. He is very protective of his home and his family but he loves when we have guests over. He will take turns sitting in everyone's laps until they shoo him away. I never thought getting a Schnauzer would mean getting a best friend for life! And as the saying goes, "You can't have just one Schnauzer!"
Return to 2012 Schnauzer Photo Contest .