FouFou Dog Review & Giveaway

FouFou Dog is designer doggy wear that includes a Love Your Breed™ Collection. So when we were contacted to review their products, we jumped at the chance. There's one thing about Miniature Schnauzer owners... we really do love our breed.
In the package we received a Schnauzer pen, Schnauzer luggage tag, Schnauzer key cover, and a Schnauzer rhinestone sticker. And they also sent us a Holiday Reindeer sweater.
Just look how cute this reindeer antlers sweater is: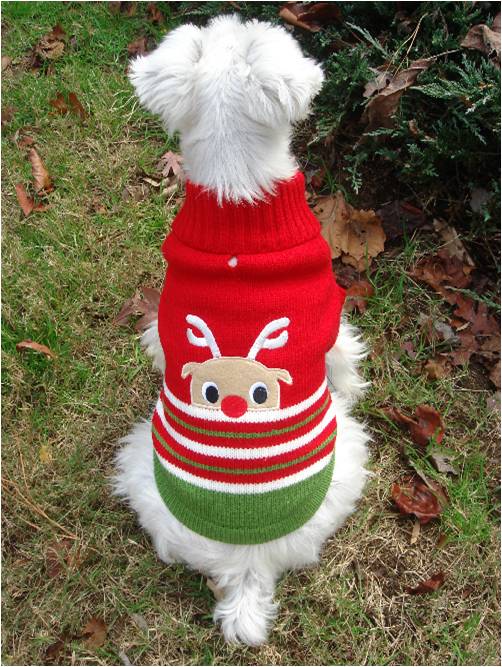 This adorable sweater of a reindeer peering over colorful stripes of holiday hues of red, green, and white will definitely have your Miniature Schnauzer the envy of all the other dogs. This turtleneck sweater is easy to slip on and take off and provides a leash hole which makes it super easy to hook your dog's collar to his leash.
FouFou has other animal theme sweaters including a monkey, frog, penguin, and pig. They also carry argyle sweater and hoodies.

FouFou Love Your Breed™ Collection

We were excited to see the great selection of gifts featuring the Miniature Schnauzer in their Love Your Breed™ collection.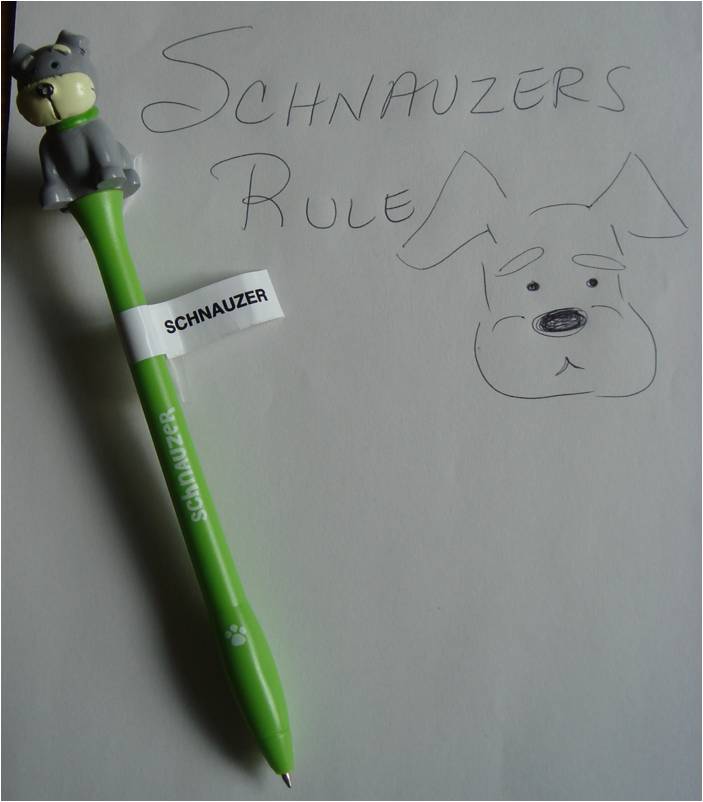 First up, the Schnauzer Pen.
The pen has a cute Miniature Schnauzer topper and writes smoothly in black ink. Priced at only $4.99 this pen would make a great stocking stuffer or a fun gift for school kids.
In fact, since the pens are part of the Love Your Breed™ Collection you can get gifts for all your dog loving friends. Breed specific pens include...
the Beagle, Boston Terrier, Bulldog, Chihuahua, Dachshund Golden Retriever, Maltese, Poodle, Pug, and Yorkshire Terrier. And they're all adorable.
Miniature Schnauzer Key Cover

The Miniature Schnauzer key cover comes in a purple soft rubber type material that will help you differentiate one key for another.

Again, at only $4.99 this would make a great gift or stocking stuffer for any dog lover.

Miniature Schnauzer Luggage Tag

The Miniature Schnauzer luggage tag is perfect for your luggage and includes an address card for you to fill out. You will travel in style and let all others know Schnauzers Rule! Arroo!

But you don't have to use this tag just on luggage, it is great to use on book bags, gym bags, or even on your purse, as I did! Love it!

Miniature Schnauzer Rhinestone Sticker

And the last item for the FouFou Dog review is the Miniature Schnauzer rhinestone sticker. This is my favorite. It is so cute and you stick it on just about anything.

So go ahead and put some Miniature Schnauzer sparkle on your phone, laptop, window, notebook, and so on.
You can just go crazy decorating everything with these fun 3" sparkle stickers. And again at just $4.99 and available in all the other breeds mentioned above, you will want to give them to all your dog loving friends. They will love these rhinestone stickers!
---
FouFou Dog Giveaway
Sorry, the Schnauzer Love Your Breed Giveaway is now over.
FouFou Dog is going to giveaway to one lucky Schnauzers Rule reader a Love Your Breed™ Collection and just in time for the holidays too!
To have a chance at winning all these adorable items follow these 2 simple steps:
STEP 1: Go to Schnauzers Rule facebook page and answer the question:
Are you going to buy your Miniature Schnauzer a gift this year?
Answer Yes, No or Undecided.
STEP 2: After you answer the question go to FouFouDog on facebook and LIKE their page and post on their wall: Schnauzers Rule. Be sure to post Schnauzers Rule or anything with Schnauzers Rule like: Hi, I'm from Schnauzers Rule........ so the FouFou team knows your are entering the giveaway!
And that's it.
Remember - You must perform both tasks: Answer the question and Post Schnauzers Rule on the FouFou Dog facebook page to be eligible to win.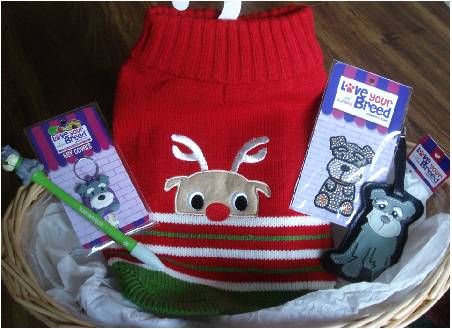 The Miniature Schnauzer Love Your Breed Collection includes the pen, key cover, rhinestone sticker, and luggage tag.

Good Luck!
Winner will be chosen at random on or about Tuesday December 6, 2011 from all the names gathered from answering the question on our facebook page and liking & posting I'm from Schnauzers Rule on Fou Fou's page.
Contest is now over. Thanks for making this a successful giveaway and Congratulations to the winner: Dee Lawson. Aroo!

---
Go from FouFou Dog to About the Miniature Schnauzer on Schnauzers Rule
Go from Dog FouFou Dog Review and Giveaway to Miniature Schnauzer Contests
Related Topics:
★ Dog Product Reviews