Eva
by Brandi
(Benton, AR)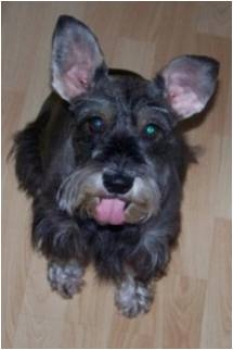 Miniature Schnauzer Eva
I got my sweet Eva in August 2005, a whole 3lbs of boundless energy and incredible love, I was lucky to be her momma for 6 yrs until, sadly, her life ended May 21, 2012.

Eva was sick. She had severe allergies since she was about 9 months old and steroid shots were the only thing that would keep her comfortable--- we did allergy testing and allergy shots, but nothing helped. We sought the help of several dermatologic specialists, but none could help us. Sadly, Eva went into kidney failure from the steroids she received over the 5 yrs.

Eva is missed terribly by all her family and will NEVER be forgotten!!!! She is irreplaceable and lives on in our memories!!!!