Treating Dogs With Allergies

Dogs with allergies suffer with redness and inflammation, bald spots or hair loss. Because they are so itchy, most spend the majority of their days licking, scratching, and chewing these areas of irritation.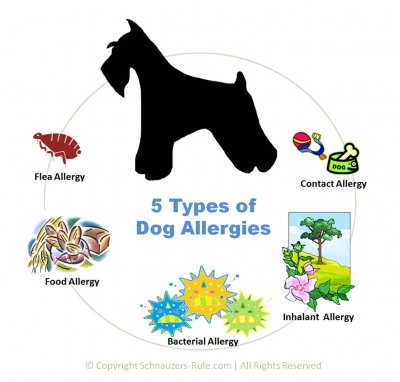 Not only are these poor dogs miserable, the constant gnawing and chewing of the skin can lead to even more problems and complications for the dog, like infections.
On the previous page, we discussed the five types of dog allergies, now we want to take a closer look on treatments and remedies so we can help end or alleviate our pets suffering.
note: Usual symptoms of dog allergies include itchiness and redness on the body, ears, and feet but these are also symptoms brought about by yeast problems or yeast overgrowth. If your dog has an old-cheesy smell it might just be a yeast infection. Get further info about Yeast Infections in Dogs.
Natural Remedies for Dogs with Allergies
If your Miniature Schnauzer is suffering from allergies, getting your dog relief from the discomfort of itching, scratching, redness and sores is a probably a top priority for you.
Dr. Andrew Jones of The Online Vet offers these helpful non-steroid options for helping dogs with allergies.
If you want an all natural complete dog supplement for your Miniature Schnauzer check out the Ultimate Canine Formula created by veterinarian Dr. Jones. You can get a trial offer at 50% OFF!

A strong advocate of Natural Pet Health Care, Dr. Jones created this supplement to provide our pets with everything they need to develop stronger immune systems to fight off disease.
Relief Solutions for Dogs with Allergies
Holistic Allergy Formulas (items 2 thru 8)

Allergy Formula Dog Foods
Herbal Colloidal Oatmeal Shampoo
Only Natural Pet Pure Salmon Oil Supplement
A few more allergen reducing tips:

Change home air filter every month and buy an air purifier like the one above to help reduce allergens in your home.

Keep windows closed to prevent or reduce the amount of allergens (like pollen) from entering your home

Vacuum frequently with a HEPA filtered vacuum.
Wash pet's bedding in hot water.
Keep pet indoors when pollen counts are high.
Use glass or ceramic feeding bowls instead of bowls made of plastic.
"Knowledge Share"... If you found this article on Treatment for Dogs with Allergies helpful and informative please share it with your dog-loving friends by clicking on one of the share links at the top right or bottom of this page.

Disclaimer: No medical claims or advice is ever given by Schnauzers-Rule.com. The information on our website is provided as informational and educational purposes only. By using the website you acknowledge, understand, and agree that all decisions regarding the health and well-being of your pet are completely your own. At no time is the website information intended to diagnose, treat, or cure your pet and is not a substitute for veterinary care provided by a licensed veterinarian. For any medical or health related advice concerning the care and treatment of your pet, always consult your Veterinarian. Also, keep in mind that veterinary medicine and information changes rapidly, so some information on this website may be out of date. Never disregard professional veterinary advice or delay in seeking professional veterinary assistance because of something you read or saw on Schnauzers-Rule.com. And never give your dog any medication without first consulting with your veterinarian.

---
Go from Dogs with Allergies to About the Miniature Schnauzer on Schnauzers Rule
Go from Dogs with Allergies to 5 Types of Dog Allergies
Related Topics:
★ Dog Health
★ Hypoallergenic Dogs
★ Miniature Schnauzer Health
★ Allergies or Yeast Infection in Dogs