Dog Grooming Tips & Tricks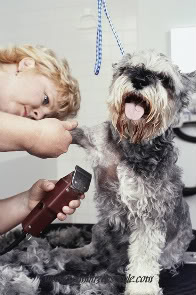 Dog Grooming Tips
5 Easy Steps and Just 10 Minutes a Day!
Amazingly, there are Schnauzer owners that underestimate the importance of grooming one's pet. They think once every couple of months at the dog salon should suffice. But this is far from the truth. As a responsible pet owner whether you take your Miniature Schnauzer to a
professional dog groomer
or
groom your Schnauzer at home
, it should be done on a daily basis!
WHAT?..... DAILY?
YEP! ........ DAILY!
Now I'm not talking about a full grooming session like the one pictured on the left, which includes clipping your Schnauzer's entire coat, giving a dog bath and so on... but I am talking about
basic dog grooming
.
Think about it this way, we brush our teeth daily in order to keep them clean, healthy and maintained before our next dental appointment, right? Well, it's the same for your dog. Your Schnauzer needs to be groomed daily as part of his basic maintenance care in order to keep his coat, teeth, nails, ears, and eyes clean, healthy and maintained until his next full-on grooming appointment.
With our
easy dog grooming tips
below, you'll see it's not that hard to do and only takes a few minutes each day. And of course there's an added bonus: This is quality time you're spending with your Schnauzer so you will also be strengthening the bond between the two of you even further.
Groom Your Dog in Just 10 Minutes a Day
By following these 5 simple steps you will help your Schnauzer maintain overall health, keep him looking great, and have him get accustomed to the entire process of grooming making the full sessions that much more enjoyable for everyone involved.
Schnauzers Rule presents:
5 Easy Steps to Grooming Your Dog in Just 10 Minutes a Day!
Dog Eyes Soak a washcloth in warm water and wring out. Gently wipe around the areas of your Schnauzer's eyes removing any debris or material that has collected in the corner of the eyes.


✔ Time: 1 minute

Schnauzer Ears Dog ears can really be a haven for yeast and bacteria if not kept clean. This is especially true for dogs with long hair or inner ear hair like Schnauzers have. Check your Schnauzer's ears for any excess debris or foul odor. If your Schnauzer's ears are healthy great! If your Schnauzer's ears need a little more attention learn how to clean your Schnauzer's ears.


✔ Time: 1 minute

Schnauzer Coat Take the time to brush your Schnauzer daily. It only takes a few minutes and it's a good time to check his entire body over for fleas, ticks, or any dog lumps and bumps that appear suspect which may need to be addressed with your vet.

And you don't have to give your dog a bath every week. Sometimes all it takes to remove surface dirt from the coat is rinsing your Schnauzer off with plain warm water once a week. This will help your dog stay clean in between salon visits. Or if you prefer use products like no rinse dog shampoos or bath wipes.

When brushing out your Schnauzer's coat be sure to comb the hair in the direction it naturally grows. If you come across a difficult mat or tangle just cut it out with scissors. There's no reason to put your Schnauzer through the pain of trying to brush it out completely.

When you finish brushing your Schnauzer, offer up a treat and maybe for a quick stroll around the neighbor to strut his stuff. This will reinforce a positive experience and have your dog looking forward to his next groom.


✔ Time: 5 minutes

Tip for Dog Teeth Dental hygiene is super important for your dog. If your Schnauzer has an aversion to having his teeth brushed, just use a bit of dog toothpaste on the tip of your index finger and massage around the sides of your Schnauzer's teeth. Or wrap your finger with a light gauze first and then apply the paste to it. Your dog will soon learn to accept having his teeth brushed and become more comfortable with the whole process.

Remember, healthy dog gums are firm and pink in color. Check for tartar build up, bleeding, or any swelling of the gums. Any concerns should be addressed with your vet.


✔ Time: 2 minutes

Tip for Dog Nails Check your Schnauzer's nails daily for any chips, fractures, or breaks. Check his paw pads for any tears or damage, too. Softly feel in between the pads while gently stroking each of his paws. This quick process will go a long way in having your dog accept his monthly nail clippings. If your Schnauzer needs a bit of trim only take off the very tip of the nail or file them down a bit.


✔ Time: 1 minutes
AS you can see,
5 dog grooming tips
can be completed in one 10 minute period or if you like spread the activities out throughout the day. Just schedule each activity at a time that works best for you.
Oh I almost forgot there's an Extra Bonus to all of this grooming and care.....
By keeping your Miniature Schnauzer well-groomed you will be the recipient of lots and lots of compliments from people when your out and about with your furry friend. And you both will enjoy that!
Search Schnauzers-Rule.com
Custom Search
---
Go from Dog Grooming Tips to About the Miniature Schnauzer on Schnauzers Rule
Go from Dog Grooming Tips to Miniature Schnauzer Grooming