Dog Collar Safety

This article on dog collar safety will provide you with some invaluable tips to help prevent injury and/or strangulation to your adorable Miniature Schnauzer.
Year after year, collar strangulation accidents injure or kill countless dogs and cats. There are countless dangerous possibilities of this happening: Collars get caught on fencing, branches or bushes, dog crates, furniture, and they can become entwined when 2 dogs are playing together,....
Hopefully these safety tips will help prevent this tragedy from ever happening to your Miniature Schnauzer.
Dog Collar Safety Tips
1. Don't Tie Dog Up: Never restrain your Miniature Schnauzer by his collar by attaching it to a leash (or any other type of rope or cable) on any raised areas such as: decks, tables, grooming tables, balconies, bed of trucks, etc..
FYI: There have been many reported accidents of strangulation occurring at the dog groomers. Make sure your groomer NEVER leaves your dog unattended on a grooming table or any other place in their salon where a strangulation could occur.
2. No Collar During Play: Remove your Schnauzer's collar while he is at play with another animal in the privacy of your fenced-in backyard. Dogs at play can easily become entangled causing them harm or death by strangulation.
3. A Quick Release Collar is Best: The most difficult collar to remove in an emergency situation is the belt-buckle style collar. Refrain from using this type of collar on your Miniature Schnauzer. Instead use a quick release snap style collar or use a break-away collar which automatically releases when pressure is applied.
4. Collar Size: Check your dog's collar regularly for proper fit. Your Schnauzer's collar should not be too tight or too loose. You should be able to place 2 fingers comfortably between the collar and your dog's neck.
5. No Collar when Crated: Remove collar and ID tags when you crate your dog and even when he's in the comfort of your own home. Yes, many dog collar injuries happen when ID tags get snagged on carpet and furniture, too.
6. Use a Harness: A dog harness provides a more comfortable restraint for your dog. Because it fits around a dog's chest and rib cage, it is ideal for small dogs with delicate windpipes taking the pressure off your Schnauzer's neck. Many harnesses are even padded for even more comfort, too!
Although we always preach:
"Be sure your Schnauzer is wearing his collar and ID tags"
it is important to be aware of the possibilities of pet injury when your dog is wearing a collar to prevent a tragedy from happening to your pooch!
Also, since there will be times your Schnauzer may not be wearing his collar having your dog microchipped with your current contact information will enable a vet or animal shelter the ability to scan your pet and identify you as the rightful owner.
Break Away Keep Safe Collar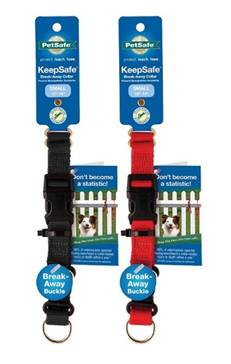 The Keep Safe Break Away Collar is the only collar that has a patented safety buckle that is designed to protect dogs from collar accidents AND it can be used securely with a leash. It protects a dog from collar strangulation by using a patented safety buckle that releases in emergency situations, such as when a dog is entangled with an object or another dog.
If a dog's KeepSafe Break-Away Collar becomes entangled, sufficient force is supplied to cause the safety buckle to release, freeing the dog from danger and saving it from possible strangulation. After the collar has released, it can be reattached and used again and again.
---

Go from Dog Collar Safety to About the Miniature Schnauzer on Schnauzers Rule
Go from Dog Collar Safety to Miniature Schnauzer Puppy
Related Topics:
★ Holiday Safety Tips For Dogs
★ Responsible Dog Ownership
★ Puppy Supplies