DANKA 1997 - 2012 Always in my heart
by Gerald
(Gikmer, Texas)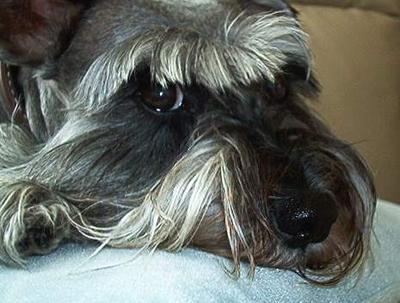 Danka 1997-2012 Best dog God ever made
In 1997 on our trip to N.E. Texas for our Granddaughter's high school graduation, we first met our Danka. In typical Texas business fashion we met her in the back of a pick-up truck in a parking lot.She was not from a puppy-mill breeder just a family who had mini schnauzer pups for sale. 12 weeks old and full of fleas. But no matter she looked into my eyes and said "take me home dad". One of the most best decisions I have made in now over 80 years of life. She was MY puppy. For 15 years she was always at my side. We never traveled anywhere she could not go, if she wasn't good enough for where we were going, it wasn't good enough for me.

We moved here to Texas when we retired to be close to our daughters who settled here with their Texas husbands and Danka was back in her birth state, not more than 25 miles from where she was born. After we got settled into our new home we got another mini for her to play with and buddy up with. We named the new comer Shayna so that we could thank God in true German fashion "Danka-Shayn, thank you" for our babies.

In about 2005 Danka went blind and because we are of modest SSI income we made life as easy as we could for her. She became even more dependent on me and it was my privilege to take care of her.. And then in 2012 she developed cancer on her paw pad and we had it removed 3 times when the vet gave us the advice that we all pray never comes. She died in my arms and took my heart with her. If God is merciful we will be together soon.