Cody
by Lauren
(Austin, TX)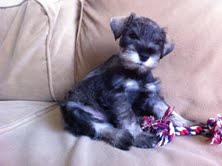 Miniature Schnauzer Cody
I've wanted a Miniature Schnauzer for several years now, but was not in a place to provide the care and attention that puppies need. Finally, everything was just right for me to get a puppy, including my job. When I realized I was ready, I promised my mother that I would look carefully, and not just settle on the first puppy I saw. I lied.

When I saw Cody's picture online, it was immediately clear that he was the perfect little man not just for me, but for the people that I work with. I work at a facility for adults with disabilities, and now Cody does too. The residents adore him, and he is never short on affection or attention. There is always someone who wants to take him for a walk, play tug, or just simply watch him sleep. He is the perfect addition to not only my family, but to the community where I work.
Return to 2012 Schnauzer Photo Contest .