Casper Boy
by Molly Ooi
(Kuala Lumpur, Malaysia)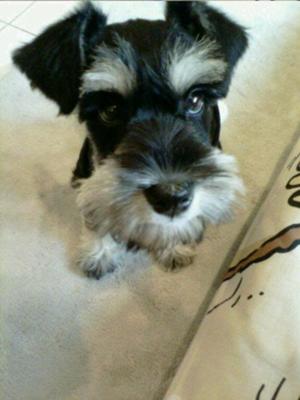 Miniature Schnauzer Casper
Casper the 9 month-old fluffy male Miniature Schnauzer, I got from a pet shop. I was fall for him from the 1st sight, and he becomes the most precious gift to me from my boyfriend.

He likes to bite everything that is WHITE, he even rolled the toilet paper the entire house and he came out in white lastly. So now u know... WHITE is his favourite colour! One day morning, my sister woke up by seeing her WHITE mobile phone has been spoiled by all the teeth scar attached, she was very upset but yet feeling funny. Casper did that!! The following day, she changed her mobile casing to black colour and put next to Casper and see what his respond, he didn't even take a look nor bite it. Lmao

Casper used to explore my wardrobe and messy up my bedroom with all the white bras, white undies, white dress and so on. He bit my bras and would hide under the table once he saw me enter the room yet never let it go from mouth when I ask him to return.

My days are brighten up by him seriously, he does everything funny and even keep me busy all day long with all his destroyed leftover, but I'm enjoy with all these. Because I feel lonely sometimes when he's not with me, I love him and give him everything the best as I could afford.
Return to 2012 Schnauzer Photo Contest .