Brittany...katza meow, meow katza katzi zoo
by Ralph
(Texas)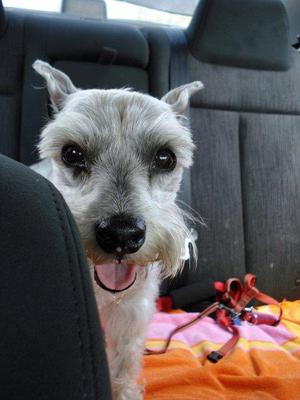 Baby you can drive my car...
Feels like 150th time I have shed tears since your passing one week before Christmas Eve 2012 after 17 years and 1 month. I will now try to put your loss into 150 words.

Early on I knew your passing one day would have a terrible affect on me. Everywhere you were the center of attention as people gravitated towards you and asked many things about you. Dog who barked most at 'Bark Park' also barking at motorcyclists, pedestrians, cows, horses etc...as you looked out of open car window. It seemed you barked so much because you were such a very happy dog and loved life so much. Looked as though you smiled after each bark, looking for my approval.

Around 14 years came that dreadful first time you could not finish your long walk. Hearing loss appeared at that time. Around 15 noticed one hind leg skip, first sign of arthritis. Thought blindness would be next, lucky it never came and she had all her teeth.

At 16.5 years (first image) you could not rise with your hind legs from smooth surfaces. Early August 2012 felt it would be just a matter of months, hoping you would pass on peacefully but you were a tough dog!

Never will forget your sad eyes looking at me before euthanization. Your numerous toys lay in mourning on your empty bed along with your leash and collar. Your unfinished treats along with some toys and dog grooming supplies were given to dogs in need.

I've had quite a few dogs, you are my all time favorite and do not believe I will ever find a dog as you. Long ago it was suggested I should have you cloned. Blessed to have had you longer than most dogs, with so many memories it also makes the pain greater.