Asha
by Sharon
(Los Angeles, CA, USA)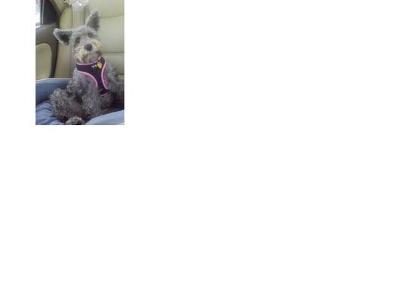 I have always been a lover of animals and nature. But, I have never had a dog as a pet. In fact, having been a military brat, it was impossible for my parents, with three children, to consider dragging a pet around every time we moved. As an adult, I had a cat companion but never considered having a dog. Enter, Asha.

My daughter was given the gift of a sweet, little ball of black fur, a seven week old, purebred mini-schnauzer. Having never really connected with a dog before, I was taken back by what happened when I first saw Asha. She looked deeply into my eyes, with her long batting eye lashes, and I fell hard! I was in love and from that point on have been, I hesitate to say, obsessed with this amazing creature. Asha and I have the kind of relationship that only happens between dogs and their humans. Because Asha broke open my heart, I now am a lover of dogs of all kinds, but especially for schnauzers.

When out with her, many people have commented on how much she looks like a stuffed animal. She's a charmer, and being very smart and so sensitive that when we are in proximity of someone with illness or injury, she walks directly to them. I am honored and blessed to be a part of her life, she consistently makes me feel loved and cherished.