Agnes the Miniature Schnauzer (Planning and Preparing for a Schnauzer)
by Eva
(New York, United States of America)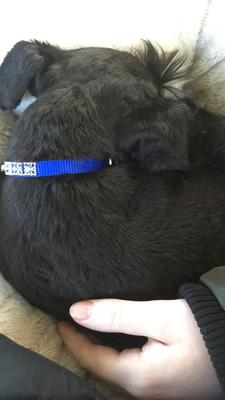 Agnes likes curling up into a
Planning for Your Schnauzer: Story time
When I was in the fourth grade, my older sister was in sixth. She had a teacher for science, who I will call Mr. Smith (not the real name). On Halloween, Mr. Smith dressed up his dog in a prisoner costume. His dog just so happened to be a miniature schnauzer. (Now keep in mind this was long before I had my own schnauzer.) He posted pictures of the dog on the Google Classroom, which my sister had access to. My sister showed me and my mother the pictures. I thought it was adorable! My mom and I did research on the breed, and she said we might get a schnauzer soon. I was so excited! But we didn't. Not the next year. Or the year after that. Or for five years after that. We practically forgot all about it. Until one day, I saw my mom texting her friend. Her friend, who I will call Katie (not the real name), lives in Moldova, a small country in Europe. My mother was born and grew up in this country with Katie and they were best friends. Because my family lives in New York, Katie and my mom don't see each other often. Katie is a dog breeder and has two schnauzers (and many other dogs and cats, etc.). Anyway, I peered over my mom's shoulder and I saw her and Katie texting how Katie was bringing us a four-month old miniature schnauzer on her annual visit! Now, I was super excited and I asked my mom right away. It was supposed to be a surprise...but now that I knew, I couldn't stop thinking about it! I knitted and sewed puppy toys and got super ready for the schnauzer (more on preparation later). It was a whole litter back in Moldova...we knew we wanted a girl and there were two girl schnauzers in the litter. We simply couldn't pick between the two (named Angelica and Agnes). We let Katie pick one out – she knows best, after all she is a dog breeder. She said when she walked in, Agnes sat down in her cage, looked out and quietly waited for Katie to come up to her. When she did, Agnes sniffed her hand and stuck her own paw out of the cage! That's when Katie knew that Agnes was ours. (We're REALLY sorry, Angelica – hope someone adopted you!)

Preparing for Your Schnauzer: Story time+Facts
*anything I tell you here is not definite – based off of my experience with Agnes*
So when I knew Agnes was going to come live with us, I was super excited. So here are some important facts you need to know if you're adopting a schnauzer!
• Schnauzers are super playful. They favor games like tug-of-war, teasing, etc. over fetch. But they like fetch too – don't worry!
• Schnauzers love walking – but just like people, they get tired when you walk them for too long. Some dogs can walk forever, but my schnauzer only walks around the block 4 or 5 times before trying to go back inside.
• Schnauzers love running more than walking! My dog runs whenever she can. It's adorable.
• Schnauzers are very smart and have an advanced sense of tone and mood. If you ever say anything negative about your schnauzer, even as a joke, they may sense it and be upset. Stay nice to your schnauzer! (Like any other dog, obviously)
• Schnauzers get bored easily. Some other dogs can play alone with a toy. But if you give a schnauzer a toy, but you don't play with him/her, he/she won't be interested in the toy. Play with your schnauzer whenever you can. They get lonely if you don't. And who wants to see a schnauzer with sad puppy dog eyes and a droopy tail? Nobody, that's who

Anyway, hope this helped! Enjoy my Agnes pics! And if you are planning to adopt a schnauzer: Good for you! Enjoy!