Schnauzer Christmas Photos
Do you dress-up your Miniature Schnauzer for the holidays? If so, we would love for you to share your
Schnauzer Christmas photos
.
Perhaps you got a great photo of your Schnauzer in a Santa hat or reindeer antlers? Or maybe one of your Schnauzer tearing up wrapping paper or sleeping under the tree? Well, if your picture is about your Miniature Schnauzer and the winter holiday season (whether you celebrate Xmas, Hanukkah, Kwanzaa, or some other December holiday) we would love to see it. Just fill out the form below.........
NOTE: All entries must include a story of at least 150 words to be accepted.
If you like, have your Mini Schnauzer write a letter to Santa Paws as part of your
Schnauzer Christmas Photo
submission. Here's and example from our very own Miniature Schnauzer SAMSON!
Dear Santa Paws,

I have been a VERY good boy this year! And I always try my bestest to pawlease my Mommy in every single way. For instance, I help her clean the house by picking up my own toys and putting them back in the toy box, I help pre-wash all the dishes with lots of licks, I make sure Mommy gets plenty of exercise by taking her out on several daily walks, and I always help keep her warm on those cold winter nights. I just love to snuggle.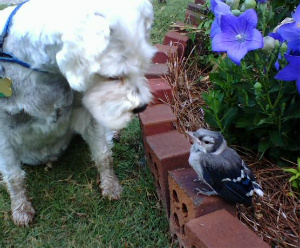 Other things I do that should put me on your "good boy" list are: I play nice with other doggies and even share my dog toys and treats with them. I'm also kind to other animals, too... Like the time I came across this baby Blue Jay on morning walk and I didn't even try to kill it! Of course, I haven't gotten that close to a squirrel yet, so the jury's still out on that one... but I'm nice to cats, too! Oh, and I even let Mommy dress me up in a horrendous clown outfit for Halloween! With a Big Red Nose and all. That's gotta count for something.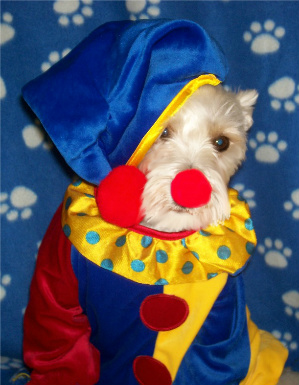 I just can't remember doing anything bad Santa... well, in case you count that one time on our summer road trip when Mommy pulled off the highway to get something from the trunk of the car. See, Mommy left the keys in the car to keep the air conditioning running for me. But just as she closed the trunk and headed back to the driver's seat, I accidentally stepped on the door lock button on the arm rest. So, I was stuck inside the car and Mommy outside the car. But after a good 10 minutes of playing 'Let Mommy In', I stepped on the button again, the door unlocked and we were back on our way! BOL!

But other than that I've really been a good boy. I never mess in the house, I learn all kinds of tricks, I even try to enjoy bath day. I do kinda grit my teeth shut, when Mommy tries to give me my heartworm medicine though... But I promise nothing else. Honest!

So if you think, after reading my letter, I've been a good boy too, maybe you could consider a few of my requests this year?

1. I want a Cozy Cave Dog Bed
. I like to sleep under the covers so this would be good for me during the day time, when I'm not in Mommy's bed. I think the medium size bed would do nicely.

2. I'm running out of bully sticks
, so a fresh supply of about, oh let's say 12, should do nicely!

3. As you know, a Schnauzer can never have too many squeaky toys
. You can choose whichever ones you like.

4. I have plenty of doggie clothes, so don't bother leaving me any outfits AT ALL. Pawlease.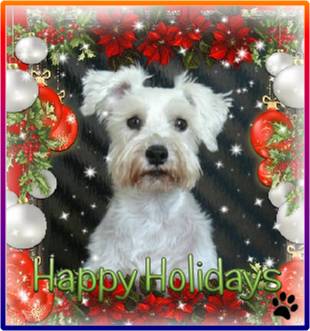 5. And Santa Paws, if you can only fulfill one of my wishes this year, please make it this one...

I wish that you could find a loving home, like the one I have, for all the pups out there that don't have one. That would be the greatest gift of all!

Thank you for taking the time to read my letter! I wuv you Santa Paws! ♥

Always a Good Boy,
SAMSON

Schnauzer Christmas Photos
Do you have a great picture of your Miniature Schnauzer dressed up for the Holidays? If so, please share it with us here along with a holiday story! 150 words minimum
Want More Holiday Schnauzers?
Simply click on any of the links below to see more Miniature Schnauzer Holiday photos and stories from site visitors just like you!
---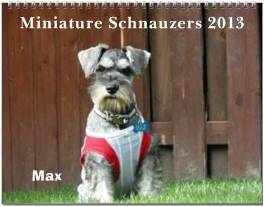 Be sure and send family and friends a
free Holiday dog e-card
just to put a smile on their face. And here's our special
Schnauzer Holiday Card
for you!
And if you need to buy a great holiday gift, how about our very own
2013 Miniature Schnauzer Calendar
!
And in order to help keep your Schnauzer safe this holiday, be sure to review our
Holiday Safety Tips for Dogs
Have a wonderful Holiday!
The video above is from a dog school in Hungary that uses the Mirror Method. The Mirror Method comes from the idea that dogs will reflect their owners behaviors. The training involves building up the human and dog relationship and ranking order, socializing dogs with other dogs, teaching positive reinforcement with clicker use, and incorporating the dog's natural instincts during play and training.
---
Go from Schnauzer Christmas Photos to About the Miniature Schnauzer on Schnauzers Rule
Go from Schnauzer Christmas Photos to Gifts for Miniature Schnauzers
Related Topics:
★
Miniature Schnauzer Dog Safety Holiday Tips
★
Schnauzer Christmas Gifts
★
12 Days of Xmas Schnauzer Style
★
Pet Costumes