Thanksgiving Hazards for Dogs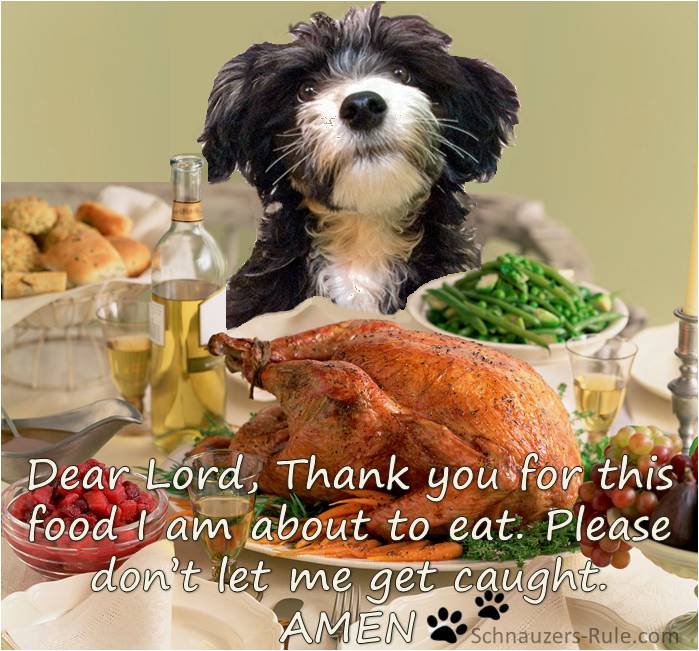 Let's admit it, we all over indulge a bit during the holidays, especially at Thanksgiving. But over-feeding your Miniature Schnauzer, slipping him bits and pieces of rich fatty holiday foods to taste, or even giving your dog leftover table scraps, could cause major gastrointestinal problems for your dog or worse yet... he could end up in the animal emergency room!

And lets face it: Nobody wants to spend the holidays at the emergency vet clinic, stressed out and worried about their furry family member.

To help prevent your Schnauzer from becoming ill, follow our 10 holiday pet safety tips below. These pet safety tips will help keep your  Miniature Schnauzer safe on Turkey day and every day. And for those of you wanting to prepare a special holiday dinner for your Mini Schnauzer, try our homemade Turkey Bowl Bash for Dogs. Your dog is going to love it! Aroo!
Top 10 Pet Tips for a Safe Thanksgiving
Avoid feeding your Miniature Schnauzer any table scraps. Also, be sure to inform invited guests not to slip any snacks of any kind to your dog, too.

Zippo! Nada! None!

Even if your Miniature Schnauzer uses their "Pretty Please" pitiful look. Our holiday foods are loaded with fat, which can trigger the onset of pancreatitis.
Secure your garbage so your Miniature Schnauzer does not ingest any bones, plastic wraps, aluminum foil, etc...
Keep all holiday decorations and lit candles out of your dog's reach.
Familiarize yourself with the bad foods for dogs. These include such holiday foods as chocolate, raisins, onions, garlic, macadamia nuts, caffeine products, alcoholic beverages, etc...

Be aware of your Miniature Schnauzer's whereabouts. With so many guests coming and going, there is plenty of opportunity for an escape! Also make sure your Miniature Schnauzer is wearing his I.D. tags!
Never, ever leave out any sweets on your coffee table! You can bet, as soon as your back is turned, your little scavenger will go straight for them. Have all goodies, hors d'oeuvres, and other dangers like candles, placed on high counter tops and out of your Miniature Schnauzer's reach.
Keep the emergency Vet & Poison Control telephone numbers nearby... just in case the unthinkable happens!
Familiarize yourself with the poisonous plants that could potentially be life threatening to your Miniature Schnauzer. Popular Holiday plants: Amaryllis, Peace Lily, Holly, Poinsettia, & Mistletoe are all on the list.
Keep your Miniature Schnauzer out of the kitchen while you're preparing the holiday feast. This one tip alone can prevent a whole host of possible accidents from happening: Your Schnauzer won't be able to ingest something he shouldn't because it fell on the floor. Your Schnauzer won't trip you up as your carrying hot food to and fro, and so on.
Exercise your dog before your guests arrive for the Thanksgiving festivities. Take your Miniature Schnauzer on a brisk walk to help tire him out so he will be more calm during the festivities.
By following a few simple rules and being aware of holiday dog dangers, both you and your Miniature Schnauzer can have a safe holiday and just enjoy the celebration. Want even more tips. Review all our
Holiday Safety Tips for Dogs.
Search Schnauzers-Rule.com
Custom Search
"Knowledge Share"... If you found these tips on keeping your dog safe this holiday season informative, please share them with your dog-loving friends by clicking on one of the share links at the top right or bottom of this page (like facebook or twitter). It could just save their life!
---
Go from Thanksgiving to About the Miniature Schnauzer on Schnauzers Rule
Go from Thanksgiving to Dog Safety Holiday
Related Topics:
★ Dog Holidays
★ Schnauzer Dog Articles
★ Heimlich Maneuver for Dogs