Schnauzers Rule Cheesy Delights Dog Treats
by Schnauzers Rule
Here is another one of our very own yummy recipes just for you!

Ingredients:

1 cup instant oatmeal (quick oats)

1 egg

2/3 cup fat free cottage cheese

1/4 cup 100% grated parmesan-romano cheese
Preheat oven to 350 degrees. Whisk egg in a bowl then add the remaining ingredients and mix well. Drop teaspoon size of mixture onto greased cookie sheet and bake for 15 minutes.
Your Miniature Schnauzer is going to go crazy for these Cheesy Delights! Since we only use regular human grade ingredients in our recipes, you can try one of them yourself and then you?ll know why your Mini Schnauzer is so excited! Enjoy!
note:
Store in a tightly sealed container or zip lock bag in the refrigerator or freezer.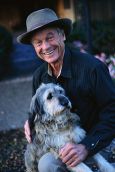 Joh Miller's 245 Healthy Recipes
John Miller's 245 Healthy Dog Recipes:
Here's some recipes you will discover in the ebook:
Healthy dog food recipes for dogs

Natural recipe to keep flead away

Gourmet Dog Biscuit recipes

Dozens of recipes for delicious, economical, healthful dog food

Dog Treats Recipes

Dog bones and more!
Join in and write your own page! It's easy to do. How? Simply click here to return to Dog Recipes.