Schnauzer of the Month Photo Contest
October Schnauzer Contest is now Closed.
This Month's winner....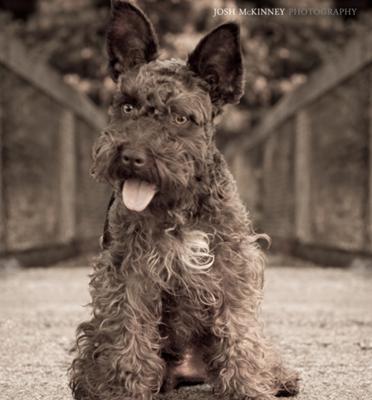 Barksdale
Schnauzer of the Month
A big thank you to all our contestants for sharing such wonderful photos of your Miniature Schnauzer with us. Judges always have such a difficult task in choosing just one winning photo from so many cuties!
Click here to find out all the details on how you can enter your Miniature Schnauzer in our next Schnauzer of the Month photo contest!

---
Want to See All the Schnauzer Photo Contest Entries
Miniature Schnauzer Butch

This is Butch. I got him about a year ago, he will turn one year on Feb 2011. He is very loving, really affectionate guy, who loves to cuddle. He can be ...
Miniature Schnauzer Scout

A female Miniature Schnauzer, Scout loves her toys especially the ones that squeak. She has lots of stuffed animals that she also plays with and squeaky ...
Miniature Schnauzer Quincy

We have had Quincy for 8 years now, since he was 7 months old. One day we went to pick out a Miniature Schnauzer puppy, but when we arrived at the breeder'...
Miniature Schnauzer Sophie Kate

After loosing our sweet little Miniature Schnauzer Emma last December, I have longed for another. Sophie Kate is now 4 month old and we love her dearly....
Miniature Schnauzer Bailey Dan
We had Max, our salt and pepper mini-schnauzer for almost 15 years. When he passed away, we were hesitant about getting another dog, as we felt that Max ...
Miniature Schnauzer Monty

Monty is our first mini schnauzer. He is 3 and he has changed our lives immeasurably for the good. He loves playing with his stuffed duck, eating apples,...
Miniature Schnauzer Bailey Collins

We bought Bailey from a breeder in New York. She is a female 1yr. and 4 months. She is a sweetheart that loves to play, kiss, and cuddle. Her favorite ...
Miniature Schnauzer Murphy

This is Murphy, our 5 year old mini. He is the best dog any family could have! Watching chipmunks and squirrels from our family room window are his favorite ...
Miniature Schnauzer Barksdale

This is a picture of our miniature schnauzer Barksdale. He decided to pose for just a second before running into the lake and getting all wet.
Miniature Schnauzer Grumpy

I'm now 8mths old and i went on my first hiking trip to the Catskills with mommy. I hiked the Kaaterskill falls and this is me on our B&B balcony.
Miniature Schnauzer Rocky II

Hello everybody.

Rocky II is 2 years old, and We love him too much!!!
He's like a person, He is another son and brother in my family, we are happy ...
Miniature Schnauzer Sage

Sage is 18 months old. He is black and silver. When my older dog Adam, passed, we were undecided if we wanted a puppy, but my 4 year old Schnauzer, Eden,...
Miniature Schnauzer Lola

My Lola is a 3 year old 17.5 lb female silver and white mini with a heart of gold! We got her when she was just 10 weeks old and I can't imagine my life ...
Miniature Schnauzer Holly

Holly was adopted from a schnauzer rescue in March 2004 at 4 years old. She quickly settled in and became the "baby". She enjoyed her stuff squeaky toys,...
Miniature Schnauzers Oliver and Izzy

Oliver is a 2 1/2 year old white male and Izzy is a two year old black female. Oliver joined our family first, we fell in love with him the minute we ...
Miniature Schnauzer Makensi

Makensi Hope was born 9/20/2009 and came into my life in November 2009. She is my little shadow and goes everywhere with me. She absolutely LOVES to ...
Fritz came to be my new "bubby" after my last mini Jake died in February 2010. Jake was 17 and had been with me for 15 of those years. Of course I was ...
Miniature Schnauzer Lange

Lange is an adopted fellow given up by his first owner. He is now the "Little Man" of a four adopted dog household.
Miniature Schnauzer Sabrina

Sabrina is my loving one she is so good and when I come home from work she wants to be my my side. She is a female miniature schnauzer given to me by ...
Miniature Schnauzer Andy

Andy joined our family Christmas of 2009. He is the sweetest, most loving, obedient, best dog EVER! He's so smart. He loves to meet the neighbor dog ...
---

Go from Schnauzer Contest October 2010 to About the Miniature Schnauzer on Schnauzers Rule
Go from Schnauzer Contest October 2010 to Miniature Schnauzer Contests