Schnauzer of the Month Photo Contest
August Schnauzer Contest is now Closed.
This Month's winner....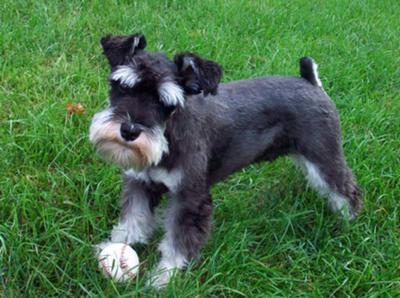 Roody
Schnauzer of the Month
A big thank you to all our contestants for sharing such wonderful photos of your Miniature Schnauzer with us. Judges always have such a difficult task in choosing just one winning photo from so many cuties!
Click here to find out all the details on how you can enter your Miniature Schnauzer in our next Schnauzer of the Month photo contest!

---
Want to See All the Schnauzer Photo Contest Entries
Miniature Schnauzer Roody

Roody was born on September 11, 2009 in Roodhouse IL. He is a playful pup and has so much personality we sometimes forget he is a dog!
Miniature Schnauzer Mia Elizabeth Lanier

Mia came into the Lanier family in February 2010, as a birthday present from my boyfriend. Mia is eight months old soon to be nine months. She's all white ...
Miniature Schnauzer Schnapps

Hi! My name is Schnapps and I'm a miniature schnauzer that lives on the south shore of Long Island. I love running, playing fetch (although part of the ...
Miniature Schnauzer Link

Link is a 1yr and 7 month old black and silver Miniature Schnauzer. He is the only dog I have ever owned that has a personality bigger than most people....
This is our newest family member, Leo. He is a male "liver pepper" guy and he is just six months old.

There are three young boys in our family and ...
Miniature Schnauzer Walker

Walker is seven years old, but will forever be a puppy at heart. He has been with our family since he was just a little guy a few months old. His best ...
Miniature Schnauzer Jingle Bell

Jingle Bell is our sweet girl from a litter of five born on May 28, 2010. She is just 11 weeks old today. Together with Happy, her sister from the same ...
Miniature Schnauzer Almond

Our recently rescued 2 1/2 year old female mini came to use with a skin infection, matted coat, a bald patches. We've only had he for a few months, but ...
Miniature Schnauzer Lily Bell

Lily Bell (Lily for short) became a part of our family three months ago now. When I went to the breeder to find my new Mini Schnauzer, this beauty came ...
Miniature Schnauzer Louie

About our Mini Schnauzer Louie. Louie became part of our family on July 26th, 2010 when I was passing by a pet store and had to take a peek inside. There ...
Miniature Schnauzer Roxz (roxy) Lynn Bullard

Roxz was introduced to our family when we purchased her from a breeder. She is a Female and is 14 weeks old. Roxz is a very loving a playful girl. She ...
shes the king of the house hold. most def she loves people an loves attention and loves to play
Miniature Schnauzer Coco

Coco is 3 years old. I got her from a family that couldn't keep her any more. She loves to run outside and to ride in a car, but inside she hangs out ...
Miniature Schnauzer Lillypad

Lillypad is my pride and joy,we got her a year ago as a puppy and had never had a schnauzer before, but she is the greatest, never a dull moment with lillypad ...
Miniature Schnauzer Sophie

Every expression is written all over this little girls face, I never have to guess what she is thinking. Her favorite toy is whatever the other dog is ...
Miniature Schnauzer Archibald

Archibald, mostly known to all as Archie, is my one year old miniature schnauzer. Archie became my little boy in November when I saw an ad on Craigslist....
Miniature Schnauzer Hershey Kisses

Beautiful dark liver supercoated male. he is 1 year old and loves to play with toys and other furbabies. He is so awesome. Of course he's a schnauzer!!!...
George came to live with us on Boxing day 2006 at 14 months old when his family were emigrating.

He's such an adorable character, cheeky, sweet and ...
Miniature Schnauzer Max

Max is a pepper and salt mini schnauzer who came to live with us when he was 19 months old after rehoming him from a family who confessed to not having ...
---

Go from Schnauzer Contest August 2010 to About the Miniature Schnauzer on Schnauzers Rule
Go from Schnauzer Contest August 2010 to Miniature Schnauzer Contests